US Navy's Fleet of Littoral Combat Ships Will Be Cut to 40 Vessels
U.S. Defense Secretary Ashton Carter wants to save money to purchase more fighter jets and missiles for the Navy.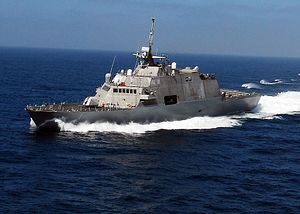 In a December 14 memo sent to the U.S. secretary of the navy, Ray Mabus, Defense Secretary Ashton Carter ordered the U.S. Navy to reduce the number of Littoral Combat Ships (LCS) to be built from 52 to 40.
The memo, according to Defense News, calls for a reduction of "the planned LCS/FF [frigates] procurement from 52 to 40, creating a 1-1-1-1-2 profile, for eight fewer ships in the FYDP, and then downselect to one variant by FY 2019."
In addition, Carter also ordered the U.S. Navy to only buy one rather than three Littoral Combat Ships per annum over the next four years and to pick only one supplier.
According to Carter, the money saved from the reduction in the number of LCSs will be reallocated to purchase additional F/A-18 and F-35 Joint Strike Fighter aircraft, SM-6 surface-to-air missiles, and Virginia Payload Modules (VPM) for Virginia-class submarines.
Block III Virginia-class submarines are currently being built with the new VPM – larger tubes that increase the ship's missile-firing payload possibilities (See: "US Subs Getting Fire Power Boost").
Future versions of the LCS will also be more heavily armed. According to Defense News:
Beginning with LCS 33, the Navy is planning to build a more heavily-armed LCS variant with the FF designation — the result of a 2014 directive from then-Defense Secretary Chuck Hagel to produce a more powerful ship.

The "1-1-1-1-2" profile would provide for one ship each year in 2017-2020 and two ships in 2021, the end of the current future years defense plan (FYDP). That revised build plan would cover ship orders up to LCS 33.
The plan to reduce the number of LCS has met resistance among some U.S. lawmakers. Republican Senator Jeff Sessions issued a statement saying that the reduction "would be a monumental error and must not stand. It would overrule the long-settled priorities of the Navy."
He continues:
The Navy has, for many years, stated its goal of building up its capacity to 308 ships.  We are currently at only 282 ships.  Cutting LCS procurement to just 40 ships will make the Navy's 308 ship goal impossible to achieve, as the only alternatives to LCS are far more expensive to produce and maintain. (…) I intend to fight against this proposed reduction, and I will continue to fight for LCS.
The 3,000-plus tons LCS is specifically tailored for shallow coastal waters and can customize around 40 percent of its volume to adapt to different mission sets (minesweeping, anti-submarine warfare, surface combat, etc.).
It has been a controversial naval acquisition due to cost inflation and numerous design and construction issues.
As I reported previously, the vessel's prime advantage was supposed to be its speed – the LCS was meant to cruise 50 percent faster (45-knot-plus) than most other war ships.
Yet, the U.S. Navy has sacrificed speed in future LCS versions and rebranded it as a frigate due to recent advances in effective counter-swarm defenses.