US, Singapore Ink New Defense Pact
The two countries signed an enhanced defense cooperation agreement.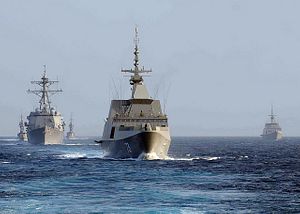 The United States and Singapore inked a new defense pact Monday that will provide a new framework for an expanded defense relationship between the two strategic partners.
Singapore and the United States already have a strong defense relationship. The city-state has provided logistical support for U.S. military aircraft and vessels in the region under the 1990 Memorandum of Understanding (MOU) and the 2005 Strategic Framework Agreement (SFA). Singapore stepped in to support an American military presence following the closure of U.S. bases in the Philippines in 1991, supported U.S. efforts in Afghanistan and Iraq, and was the first Southeast Asian state to join the U.S.-led Global Coalition to Counter ISIL.
But the two sides have been looking to boost ties as they commemorate the 50th anniversary of their relationship in 2016. On Monday, U.S. Defense Secretary Ash Carter and Singapore's Minister for Defense Ng Eng Hen met at the Pentagon and signed the new enhanced defense cooperation agreement (DCA).
According to a joint statement, under the enhanced DCA, the two sides agreed on a broad framework for defense cooperation covering five areas: military, policy, strategic and technology, along with cooperation against non-traditional security challenges like terrorism and piracy. They also agreed to enhance collaboration in new areas including humanitarian assistance and disaster relief (HADR), cybersecurity, biosecurity and public communications. The enhanced DCA also introduced new high-level dialogues between the two sides.
Ng and Carter also discussed other specific defense cooperation. Of particular note was the first deployment of the U.S. P-8 Poseidon spy plane to Singapore from December 7 to December 14. The deployment is significant as it provides the United States with another location from which to stage surveillance flights. Washington already conducts such flights from other countries including Japan and the Philippines for various purposes including monitoring China's growing assertiveness in the South China Sea. Malaysia, which neighbors Singapore, has also quietly invited the United States to operate aircraft.
They also discussed the ongoing deployment of U.S. littoral combat ships (LCS) to Singapore. The second LCS, the USS Fort Worth, was deployed to Singapore in December 2014, and the third deployment will take place in 2016. The United States has previously said that it plans to deploy up to four LCS concurrently in the region by the end of 2017.
The two countries also discussed regional issues, stressing the need to foster greater cooperation on transnational threats especially terrorism, maritime security and natural disasters.