US, Singapore Launch Maritime Warfare Exercise
Joint exercise kicks off with a focus on honing conventional maritime warfare capabilities.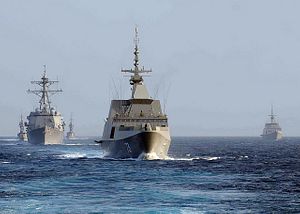 On July 13, the U.S. and Singapore navies began a joint maritime exercise at Changi Naval Base.
The 21st annual Cooperation Afloat Readiness and Training (CARAT) Singapore exercise involves 1,400 personnel from both countries and will take place from July 13 to July 24. It is part of a series of bilateral naval exercises conducted by the U.S. Navy (USN) with partners and now involves nine countries in South and Southeast Asia – Bangladesh, Brunei, Cambodia, Indonesia, Malaysia, the Philippines, Singapore, Thailand and Timor-Leste (See: "US Eyes Expanded Military Exercises with ASEAN Navies").
According to Singapore's Ministry of Defense (MINDEF), this year's exercise focuses on honing conventional maritime warfare capabilities – including anti-air, anti-surface and anti-submarine operations. In terms of assets, the Republic of Singapore Navy (RSN) and the Republic of Singapore Air Force is contributing five ships, a submarine, a naval helicopter, a maritime patrol aircraft and a fighter aircraft, while the USN and U.S. Marine Corps is contributing three ships, a submarine, three naval helicopters and a maritime patrol and reconnaissance aircraft.
In a first, both sides are using their Unmanned Aerial Vehicle (UAV) systems for conventional maritime warfare operations as part of the exercise. The RSN will deploy its ScanEagle UAV from the decks of the Victory-class missile corvettes RSS Vigor and RSS Valor, while the USN's Firescout UAV will be launched from the Freedom-class littoral combat ship USS Fort Worth. They will also hold a combined torpedo firing exercise.
CARAT Singapore 2015 will also feature a shore phase in addition to the sea phase. According to the U.S. Navy, the shore phase will include professional symposia and subject matter exchanges to allow U.S. and Singaporean personnel to share best practices and enhance cooperation, such as classroom and field training events, an aviation symposium, and visit, visit, board, search and seizure drills.
RSN's Fleet Commander Rear-Admiral (RADM) Lew Chuen Hong and USN's Commander Logistics Group Western Pacific RADM Charles Williams officiated the opening ceremony of the exercise at Changi Naval Base. At the ceremony, RSN Fleet Commander Rear-Admiral Lew Chuen Hong stressed the significance of the exercise in boosting interoperability as well as the broader relationship between the two navies. "Over the years, Exercise CARAT has provided both navies with invaluable training and enhanced interoperability. I believe that it is this close friendship and deep mutual understanding that form the basis of trust," Lew said according to MINDEF.