A False Start for Sino-Pakistani JF-17 Thunder?
Malaysia publically declares that it is not considering the JF-17. How come?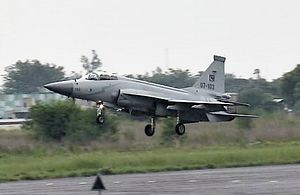 Not again. The jointly developed Sino-Pakistani JF-17 Thunder has apparently suffered another false start. As the Diplomat reported last month, Malaysian officials previously indicated that they were considering the JF-17 as a contender to its fighter replacement program. Kuala Lumpur's interest in the aircraft was signaled last month by its High Commissioner to Pakistan, Dr. Hasrul Sani, who, according to the Associated Press of Pakistan, discussed the fighter against the backdrop of boosting the bilateral relationship in general. "I think the Malaysians might be genuinely interested because Pakistan has a respectable defense industry, with the products being considerably cheaper compared to the West due to cheap labor."
However, Malaysian Defense Minister Datuk Seri Hishammuddin Tun Hussein has publically denied media reports that the country is considering the JF-17 as part of its Air Force modernization plans last Tuesday. Whether this discrepancy is due to a mistake or speculation on the part of Sani, or whether Kuala Lumpur has changed its mind, is currently unknown. One possibility is that China has requested that Pakistan withdraw its offer to Malaysia, due to tensions in the South China Sea.
Prior to Tuesday's denial, author, analyst and former Australian defense attaché to Islamabad Brian Cloughley believed the Malaysian interest to be genuine, but cautioned there was more to consider. "Heads of diplomatic missions don't usually say things publicly that aren't accurate," he said. "So there is probably something in this, in that interest appears to have been expressed, but the devil is as always in the detail, and there will have to be agreement by Beijing to any movement toward a deal."
As The Diplomat has reported on many occasions over the last couple of years, the JF-17's export prospects have been subject to numerous rumors and false starts. There have long been speculations that Myanmar, Sri Lanka and several African and Middle Eastern states are or have been considering the JF-17. Until earlier this week, when Islamabad and Colombo signed an agreement on the sale of 8 JF-17s for the Sri Lankan air force, Pakistani officials have on several occasions announced that the aircraft has found a buyer, only for this to be proven false later.
Malaysia is reported to be considering several alternatives for its air force modernization program, which will replace Kuala Lumpur's aging F-5 E/Fs and Russian MiG-29s. Swedish Saab's Gripen is rumored to be the leading contender, but Boeing's F/A-18 E/F Super Hornet and the Eurofighter Typhoon are also being considered.
As price is an important factor for Malaysia's choice, the JF-17 would be a strong candidate. Whether its decision to drop the aircraft is due to Chinese involvement or not, politics and the defense industry are still very intertwined in Southeast Asia.