The Sino-Pakistani JF-17 Might Have Another Buyer in Asia
Malaysia recently expressed an interest in the JF-17 Thunder.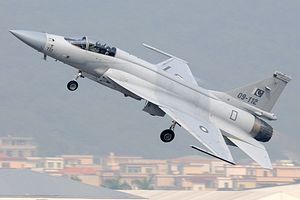 Christmas is a time for reflection, celebration and… buying really expensive gadgets which might or might not be obsolete in a few years. As Robert Farley noted earlier, several states in Asia are getting in the holiday spirit with the presentation of so-called "fifth generation" combat aircraft.
Furthermore, as I've covered the last couple of weeks, fourth generation birds are still in high demand throughout the region. Dassualt's Rafale, the Eurofighter Typhoon, Boeing's F/A- 18 Super Hornet, Saab's Gripen, and the Sukhoi Su-35 are all being peddled as options for prospective buyers.
As Franz-Stefan Gady has reported for The Diplomat, the Sino-Pakistani JF-17 Thunder (known in China as the FC-1 Xiaolong) is also trying to compete in this crowded field. Developed as a joint venture between China's Chengdu Aircraft Industry Group (CAC) and Pakistan Aeronautical Complex (PAC), the JF-17 is supposed to be a low-cost multirole alternative to the more expensive fighters currently on the market. According to the Defense Industry Daily, the aircraft isn't a top-tier competitor, but does represent a clear step up from Pakistan's Chinese MiG-19/21 derivatives and French Mirage III/V fighters. This positioning addresses a budget-conscious, "good enough" performance market segment that western companies once dominated, but have since nearly abandoned in recent decades.
First deployed in an operational capacity, the JF-17 Thunder has a conventional aerodynamic layout. The aircraft is fitted with Russian Klimov RD-93 turbofan engine with afterburner capabilities. It is a derivative of the RD-33, used on the MiG-29. In 2007, a contract was signed to supply 150 RD-93 engines for the JF-17, exported to Pakistan. China is also developing an indigenous turbofan engine, which is a copy of the RD-93, but has some modifications. It is designated as the WS-13 (Tianshan-21). The Thunder multi-role fighters delivered to Pakistan are fitted with Italian Grifo S-7 multi-track, multi-mode pulse Doppler radar. It has look-down, shoot-down capability.
The Pakistani version of the aircraft is usually armed with a Russian GSh-23 23-mm cannon or GSh-30 twin-barrel cannons. Maximum weapon payload is about 3.7 t. There are five hardpoints and two wingtips for missiles and fuel tanks. It usually comes equipped with the Chinese medium-range PL-12 air-to-air missile, as well as the PL-7, PL-8, PL-9 or the U.S. AIM-9 Sidewinder.
China and Pakistan have been attempting to export the JF-17 for some time. They have been showcasing the aircraft at the Farnborough, Paris, Zhuhai, and Dubai air shows, marketing it as a lower-cost alternative to expensive western and Russian competitors. There has been some speculation that the platform has already found buyers in Asia. "A contract has been signed with an Asian country," says Air Commodore Khalid Mahmood, the Pakistan air force officer who leads sales and marketing efforts for the JF-17. Citing client sensitivities, he declined to specify the customer and the number of aircraft it will obtain. Deliveries will start in 2017. As Zachary Keck noted last year, it is likely that Myanmar is the buyer. According to the Pakistani newspaper The New Stellar, this will probably include 16 to 24 aircraft.
Other states are also showing an interest in the Sino-Pakistani bird. Morocco has invited PAC/CAC to showcase the JF-17 at the 2016 Marrakesh air show, as it is in the process of looking for a replacement for its aging F-16 C/Ds. Although this doesn't automatically mean that Rabat has formally requested a tender from the Chinese and Pakistanis, it does indicate an interest in the platform. Although the Moroccans have remained tight-lipped about which other aircraft are being considered, the French Dassault Rafale has been mentioned as a contender.
Interestingly, Malaysia announced an interest in the JF-17 just two days ago. Kuala Lumpur's interest in the aircraft was signaled by its high commissioner to Pakistan, Dr. Hasrul Sani, who, according to the Associated Press of Pakistan, discussed the fighter against the backdrop of boosting the bilateral relationship in general. "I think the Malaysians might be genuinely interested because Pakistan has a respectable defense industry, with the products being considerably cheaper compared to the West due to cheap labor," he said.
"These products have been amply proven in the hands of very professional armed forces. These are reasons enough for many developing countries to look for defense hardware from Pakistan," he added. Malaysia has long indicated a desire to replace its remaining U.S.-supplied F-5E/F fighter aircraft, and the MiG-29s it acquired from Russia in the 1990s. This may result in an order for 36-40 aircraft.
The JF-17 has one thing going for it that none of its competitors can match: price. However, there is one crucial element which will undoubtedly be an important factor in Malaysia's choice of aircraft: its relationship with China. Considering that China and Malaysia are currently parties to the territorial disputes in the South China Seas, it is probable that Beijing will have some kind of say in the potential sale.