China Has Done More About Pollution Than You Think (But It Must Do More)
The focus needs to be on enforcement.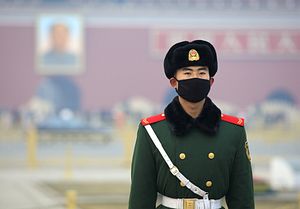 Look at the sky in China, and it's easy to think that the apocalypse is now.
The country's dismal air isn't news to those who have to breathe it, or to the international community. But recent reports about the "doomsday" smog in Shenyang were alarming. The northeastern city saw the harmful pollutant PM 2.5 at a level 40 times greater than what the World Health Organization considers safe.
And last month, as representatives from all over the world concluded their climate summit in Paris, officials in Beijing issued China's "red alerts" for smog. Schools were closed, and drivers were told to stay off the road every other day, depending on whether their license plate ended with an even or odd number.
It might not be doomsday, but this underscores China's struggle to provide its citizens with blue skies. Although it is not obvious from recent headlines, China's central and local governments have done more to curb the nation's air pollution over the past two years than casual observers may realize. The State Council mandated reduction goals for each of the three key air pollution prevention and control regions. It is further calling for a cap on China's coal consumption. Each region has proposed its own action plan and taken an inventory of pollution sources. All regions have demonstrated the will to cut air pollution levels. These are encouraging steps.
But China still faces problems in implementing and enforcing these proposals. A follow-up investigation of Shenyang's "doomsday" air reveals two examples of this: Many small industrial boilers have not installed pollution control equipment, and large coal-fired power plants were not operating their pollution control units properly.
These problems have many causes. First, it's difficult to catch non-compliance, especially among small polluters. For example, millions of small industrial boilers power or heat China's buildings. Monitoring their emissions is nearly impossible. The central and local governments have mandated closing down these small polluters, but the sheer number makes verification of enforcement difficult, too. The news out of Shenyang last month shows that China hasn't found an effective solution to enforce regulations even at large plants, where continuous monitoring equipment should have been installed.
Second, the Chinese government has not set up national systems to collect accurate pollution data. The fact that it had to issue a correction about how much coal China burns reflects the government's failure to track small industrial boilers, coal mines, and other industrial activities. But it deserves some credit for collecting better data, correcting historical statistics, and taking a step toward more transparent data-sharing.
Third, it is cheap for polluters to violate environmental regulations. In large part, this is because victims of pollution in China are rarely compensated. But the government is taking steps to change this. To improve public participation in environmental pollution monitoring and reduction, a 2014 law proposed by the Ministry of Environmental Protection (MEP) gave non-governmental groups the right to take part in investigating pollution cases. The MEP has also heightened enforcement, including the introduction of daily  fines that accumulate, rather than one-time punishments. According to the MEP, during the first seven months of 2015 under the new law, the government charged more than 282 million yuan (almost 44 million dollars) in daily fines.
Fixing the pollution problem – and soon – is important to the health of China's people, as well as the health of its economy. (RAND research shows that an investment of $215 billion annually would yield annual benefits of more than $500 billion.) And China has the technology and human capital to get it done. But before the haze can clear, China must sharpen its focus on the implementation and enforcement of regulations.
Zhimin Mao is an assistant policy analyst at the nonprofit, nonpartisan RAND Corporation.