Factories Shut Down, Cars Stopped as China Struggles With Smog
Beijing issues a red alert warning on pollution.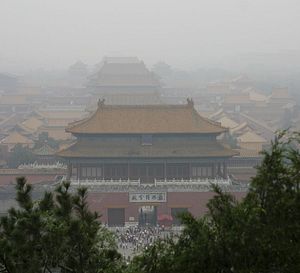 Northern China was literally shrouded in smog on Tuesday morning as several of the capital's air quality monitoring sites reported levels of PM2.5 pollution had hit 300 micrograms per cubic meter.
Across China's industrial north, city pollution readings exceeded 500 micrograms per cubic meter — 50 times larger than the World Health Organization guideline. PM2.5 is the finest pollutant particles and can cause the greatest harm to public health. These particulates are smaller than 2.5 microns in diameter, and can easily be inhaled, causing damage to lung tissues. They are especially bad for developing children.
In response to the smog, Beijing and surrounding provinces have issued a "red alert," the highest alert of a four-tiered pollution warning system. It is estimated that more than 460 million people will be affected by this red alert.
State media reported that 169 flights had been canceled at Beijing Capital International Airport on Tuesday morning, where visibility at one point fell to 300 meters. Many more flights are expected to be canceled. A number of schools have closed, while hospitals prepared teams of doctors to handle an expected surge in cases of pollution-related illnesses. Sections of Beijing's sixth ring road, the outermost highway encircling the city, were shut down in a bid to keep cars off the roads.
In neighboring Tianjin, authorities have canceled more than 350 flights and closed all highways in the municipality, while public transport services have been increased as restrictions on cars are imposed.
The problem of excessive smog pollution is becoming an annual event in these northern cities. China has some of the worst air pollution in the world, largely due to its reliance on coal and heavy industrial factory production. There is also a surplus of older, less fuel-efficient vehicles. Smog tends to spike with the demand for heating in winter months.
Beijing, along with a number of other Chinese cities, has switched from coal power plants to natural gas, and is deploying fleets of new electric buses and taxis in a bid tried to improve air quality. But the country still remains as the world's largest consumer and producer of coal, with more plans to increase production along with coal-fueled energy facilities.
More than 700 factories have been ordered to stop production in Beijing since the red alert went into effect. The red alert is expected to be lifted on Wednesday.