56 days. That's how long it took for a senior U.S. government official to come out on the record and clarify the precise nature of the October 27 freedom of navigation operation undertaken by the USS Lassen in the South China Sea. The USNI News, a project of the U.S. Naval Institute, acquired and posted a letter dated December 22, 2015 from U.S. Secretary of Defense Ashton Carter to Sen. John McCain (R-Az.) outlining the Lassen's mission. As reports in The Diplomat and elsewhere had noted back in October and early November, much of what was available publicly on the Lassen's operation was based on anonymously sourced leaks from within the U.S. Department of Defense – some of which turned out to be inaccurate – and ambiguous statements by Pentagon spokespeople. Carter's letter, however, finally sets the record straight, once and for all.
I've highlighted specific sections of interest below for Diplomat readers, but the whole letter is available at USNI News' website and is provided below as well:
On October 27, 2015, the U.S. Navy destroyer USS Lassen (DDG-82) conducted a FONOP in the South China Sea by transiting inside 12 nautical miles of five maritime features in the Spratly Islands — Subi Reef, Northeast Cay, Southwest Cay, South Reef, and Sandy Cay — which are claimed by China, Taiwan, Vietnam, and the Philippines. No claimants were notified prior to the transit, which is consistent with our normal processes and with international law.
This paragraph puts to rest worries that the USS Lassen inadvertently bolstered Chinese claims by complying with innocent passage within 12 nautical miles of Subi Reef. As I've noted before, innocent passage operations are FONOPs. In this case, that the Lassen did not give China prior notification is significant. Additionally, Carter's letter gives us the first confirmation of the other features that were transited by the Lassen on October 27. Much of our discourse on the FONOP has focused on the actions around Subi Reef, only acknowledging that "other" features were transited as well. Carter's letter highlights Northeast Cay, Southwest Cay, South Reef, and Sandy Cay. The inclusion of Sandy Cay on this list vindicates a helpful and insightful article by Bonnie Glaser and Peter Dutton in the National Interest that explained why an innocent passage FONOP near Subi Reef did not erode U.S. claims about excessive Chinese claims in the Spratlys. In fact, Carter's letter confirms this explicitly:
We believe that Subi Reef, before China turned it into an artificial island, was a low-tide elevation and that it therefore cannot generate its own entitlement to a territorial sea. However, if it is located within 12 nautical miles of another geographic feature that is entitled to a territorial sea – as might be the case with Sandy Cay – then the low-water line on Subi Reef could be used as the baseline for measuring Sandy Cay's territorial sea.
Carter's letter continues, reiterating the broader U.S. policy on maritime claims in the South China Sea. Here, we have little new, but the clear wording is welcome:
The United States does not take a position on which nation has the superior sovereignty claims over each land feature in the Spratly Islands. Thus, the operation did not challenge any country's claims of sovereignty over land features, as that is not the purpose or function of a FONOP. Rather, this FONOP challenged attempts by claimants to restrict navigation rights and freedoms around features they claim, including policies by some claimants requiring prior permission or notification of transits within territorial seas. Such restrictions contravene the rights and freedoms afforded all countries under international law as reflected in the Law of the Sea (LOS) Convention, and the FONOP demonstrated that we will continue to fly, sail, and operate wherever international law allows.
To long-time observers of U.S. policy in the South China Sea, much of this language will seem familiar. Carter has voiced this position in a similar way several times.
While Carter's letter to McCain is most welcome, it should not have come 56 days after the Lassen transited these features in the South China Sea. Though nothing of the U.S. Navy's FONOP program explicitly demands transparency, there is a key and compelling interest for Washington to make clear just what it is doing in the South China Sea to protest excessive maritime claims by China. Indeed, in the "fog of analysis" that ensued, we saw just how important it was for Washington to clarify the extent of the Lassen's activitiy (the "innocent passage" conversation was one concern, among several).
As FONOPs continue in the South China Sea – as we expect  – it would be prudent for the Pentagon to practice greater transparency. After all, there's already plenty of legal ambiguity to go around in the South China Sea.
Here's Ashton Carter's letter to John McCain: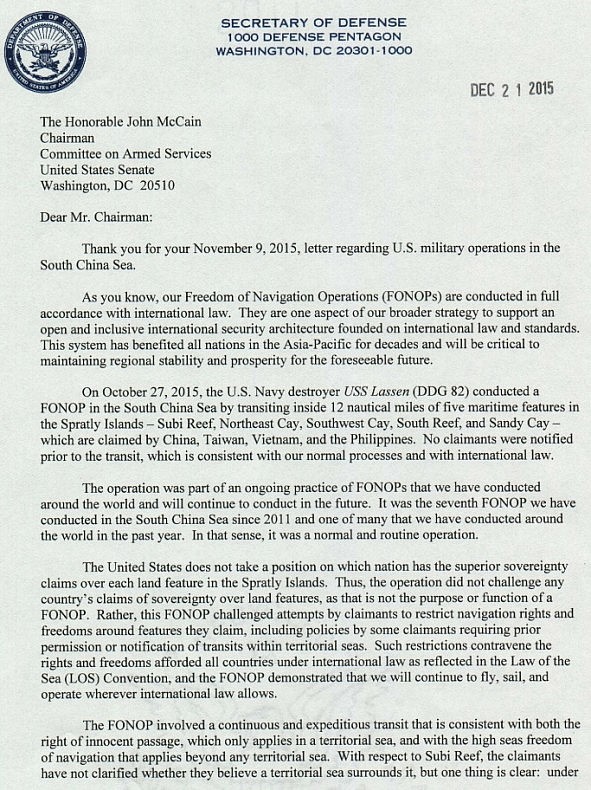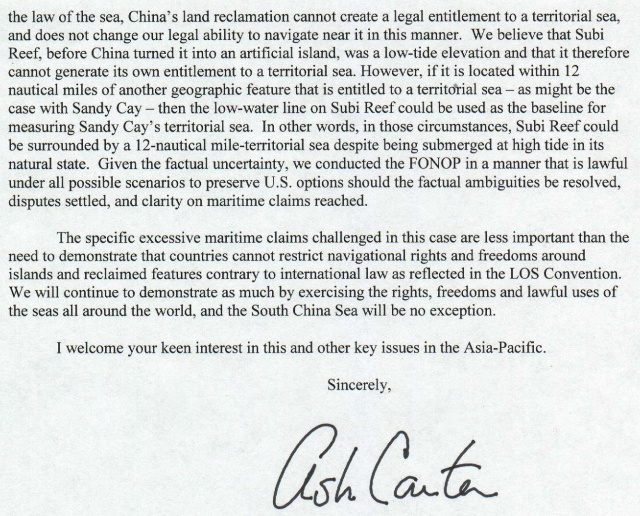 Bonus: John McCain's original query for Carter on the Lassen's activities.