How Serious is the Islamic State Threat in Malaysia?
A brief look at the bigger picture in the wake of recent incidents.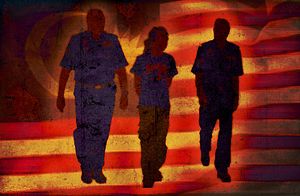 In the opening weeks of 2016, Malaysia has been grappling with a series of reports suggesting that the threat from the Islamic State (IS) is rising.
As I reported for The Diplomat, on January 11 the New Straits Times disclosed that two Malaysian suicide bombers linked to IS had blown themselves up in Syria and Iraq in the last two weeks, killing more than 30 others (See: "Malaysian Islamic State Suicide Bombers Kill More Than 30 in Middle East"). Apart from the impact of the acts themselves, the incidents – confirmed by Defense Minister Hishammuddin Hussein Thursday – also suggested a troubling trend of a growing role for Malaysians within IS.
Meanwhile, within Malaysia, a 16-year old male dressed in an Islamic-State style outfit held a woman at knifepoint in the northern state of Kedah. While the individual was arrested by police, the incident highlighted the real risk of lone-wolf attacks in the country which Malaysian officials have continued to stress.
The broader regional picture in Southeast Asia in early 2016 also looks rather worrying. Video footage of several Philippine militant groups pledging allegiance to IS has stoked fears that the group may be moving closer to its goal of establishing a foothold in Southeast Asia (See: "Islamic State Eyes Asia Base in 2016 in Philippines, Indonesia: Expert"). And on January 14, militants launched a gun and bomb assault at the center of the Indonesian capital, killing at least six people in what was suspected to be an Islamic State-linked attack.
But amidst all this, just how serious is the Islamic State threat to Malaysia right now? Numbers-wise, at home, recent public government estimates suggest that over 150 Malaysian citizens have been arrested thus far for terrorism-related activities since the formation of the Islamic State. As I have written before, what is alarming is not just the number itself, but the types of individuals which include not just ordinary citizens but also lecturers, civil servants and even security forces (See: "Exclusive: US, Malaysia and the War Against the Islamic State").
Several deadly plots foiled by the authorities domestically in 2015 showed clear signs of locals planning attacks after coming into contact with IS members abroad. At least some of the incidents have pointed to efforts to not only carry out attacks, but to secure financing and an arsenal of weapons to move towards establishing an Islamic state in Malaysia. In more than a few of these foiled plots, individuals have aimed for not just Malaysian but overseas targets, including the annual ASEAN summit and Western embassies.
At the same time, as Malaysia's police chief Khalid Abu Bakar clarified on January 13, unlike the Philippines, Malaysia as of now still does not have training camps in certain areas of the country that allow militants room to operate. And while it takes only one miss by the security forces for an attack to occur – as we may just have seen in Indonesia – thus far they have managed to prevent any major attack from happening. Authorities have also successfully cracked down on the use of Malaysia as a transit point for recruits headed to Syria to join the group, which is important since these individuals could later return and participate in attacks further down the line.
Still, abroad, according to Special Branch, 47 Malaysians have been recruited and trained as IS fighters in Syrian and Iraqi camps, with 12 of them being women and eight of them being children. Malaysian counterterrorism officials have recently been warning that IS is indoctrinating and training children as young as two years old to become the next generation of terrorists either abroad or once they return to Malaysia. In addition, 17 Malaysians have been reported killed as suicide bombers.
As I mentioned earlier, the recent disclosure of the two Malaysian suicide bombers, if true, is especially worrying because it suggests that apart from the numbers, the role of Malaysians within IS may be growing. Though Malaysians within the terror group were thought to have been initially relatively low-ranking and usually given menial tasks instead of being frontline fighters, they may have slowly moved up the ladder over the course of a few months. For instance, one of the suicide bombers served as a cleaner before being recruited as a sniper and a suicide bomber, eventually dying in a suicide mission a year later in northern Iraq.
And while Malaysia may not have any IS training camps, as Khalid himself admitted, Malaysians could still go overseas for training whether in the southern Philippines or in the Middle East. If they chose to do so, Malaysia's ability to stop them would be quite limited while they are still outside the country, even though he did note that security forces have made some efforts to influence Malaysians to return.
As Malaysia continues to grapple with the Islamic State threat into 2016, the message from officials and security forces alike has been that it is better to err on the side of caution. This is despite the fear among the opposition and rights advocates that exaggerating the threat could lead to wrongful arrests and misguided laws – such as the Prevention of Terrorism Act and the National Security Council bill – that could deal severe blows to democracy and human rights in the country.
"This threat must be taken seriously," Malaysian Prime Minister Najib Razak said in his annual New Year's address to the nation on December 31.
"We will not wait for a terrorist outrage to take place before proactively putting in place all measures necessary to avert the possibility. As Prime Minister, I make no apology for placing the safety and security of all Malaysians as my foremost priority," he added.