Malaysian Islamic State Suicide Bombers Kill More Than 30 in Middle East
Details of two incidents raise further concerns about the role of Malaysians within the group.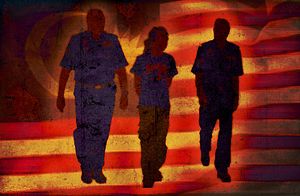 Two Malaysian suicide bombers linked to the Islamic State (IS) blew themselves up in Syria and Iraq in the last two weeks, killing more than 30 others, the Malaysian newspaper New Straits Times reported January 11.
According to the NST, Terengganu-born Mohd Amirul Ahmad Rahim set off bombs in a car in the Syrian city of Raqqa, the stronghold of IS, on December 29. The newspaper cited sources as saying that he had left his family in Malaysia for Syria in October 2014 to become part of the terror group.
Five days later, another Malaysian blew himself up in the Iraqi city of Tikrit. On January 3, Mohamad Syazwan Mohd Salim was reportedly one of seven suicide bombers who carried out an attack at a police training center at Speicher military base, killing 12 policemen and wounding 20 others. Syazwan left Malaysia with his younger brother in September 2014 via Turkey to join IS.
A source told NST that both brothers were trained in the Katibah Nusantara cell in Syria for their suicide operations. As I have noted previously, Katibah Nusantara (Malay Archipelago Combat Unit) is a unit within IS that groups together more than 500 Indonesians and dozens of Malaysians. Governments have been warning about the threat of the group's growing recruitment of Southeast Asian fighters (See: "Singapore Warns of Islamic State Base in Southeast Asia").
With the deaths of Amirul and Syazwan, the total number of Malaysians with links to IS that have been killed has risen to 17, the NST noted. Of that number, six served as suicide bombers while the rest died during battle. Malaysian officials say they have arrested over 100 citizens suspected of links to the Islamic State, with 39 identified as traveling to the Middle East to join the grouping. Alarmingly, recruits have included not just ordinary citizens, but lecturers, civil servants, and even security forces (See: "Exclusive: US, Malaysia and the War Against the Islamic State").
The incidents also suggest a troubling trend of a growing role for Malaysians within IS. While Malaysians within the terror group were thought to have been initially relatively low-ranking and usually given menial tasks instead of being frontline fighters, these occurrences, the NST noted, suggest they may have "slowly moved up the ladder" over the course of just a few months. Syazwan's brother Shazani is a case in point. Following his departure from Malaysia in September 2014 to join IS, he served as a cleaner before being recruited as a sniper and a suicide bomber, eventually dying in a suicide mission a year later in northern Iraq.