Indonesia Could Sink 57 More Vessels in War on Illegal Fishing
Jakarta's aggressive crackdown shows few signs of stopping in 2016.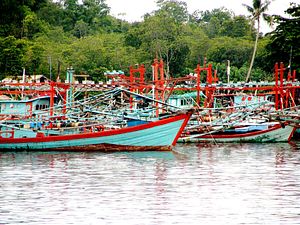 Indonesia may sink up to 57 seized vessels soon as the country continues its aggressive crackdown on illegal fishing, local media outlets reported on January 7.
As I've written previously, Indonesia under President Joko "Jokowi" Widodo has launched a tough crackdown on illegal fishing in Indonesian waters, which he says causes the country to suffer annual losses of over $20 billion (See: "Explaining Indonesia's 'Sink the Vessels' Policy Under Jokowi").
That has resulted in a series of highly public sinking of boats from neighboring countries through 2015 – part of what Jokowi has described as a "shock therapy" approach in spite of concerns among some of Indonesia's neighbors. According to the latest data from the Maritime Affairs and Fisheries Ministry, since October 2014, Indonesia has seized 157 vessels and sunk 121 of them, with most of them coming from Vietnam, the Philippines, Thailand, and Malaysia. Just one Chinese vessel was also sunk after some hesitancy, as I noted in a previous piece (See: "Indonesia Sinks First Vessel from China Under Jokowi").
Now, with just a week gone in 2016, The Jakarta Post reports that up to 57 seized vessels could be sunk soon. Twelve of the seized vessels are confirmed to be the next to be sunk while 45 others are undergoing legal proceedings. Of the 57 vessels, 18 were Indonesian-flagged ships while the rest were from Vietnam (19), Malaysia (12), the Philippines (5) and Thailand (3), following a similar pattern as in the past. The apparent frontloading of the sinkings – if they hold up – is also similar to what we have seen previously. According to ministry data, of the 121 ships sunk since October 2014, 107 of them were destroyed by the end of the first half of 2015.
Goenaryo, the ship operations director of the Maritime and Fisheries Monitoring Task Force, also reiterated to The Post that Indonesia would look to toughen its approach against illegal fishing. While the 2009 Fisheries Law gives Jakarta the legal basis for its crackdown, Goenaryo said that revisions were being made to the law to allow authorities to sink boats right when they are caught. Handing arrested ships to nearby communities until legal proceedings were completed, he added, was not effective as the boats would sit idle at ports.
His sentiment echoes what we have heard from other Indonesian officials as well previously. Last year, Indonesia's Maritime Affairs and Fisheries Minister Susi Pudjiastuti said that Jakarta had been too lenient thus far and was considering sinking vessels 'on the spot' – with just a permit from the court instead of a full judicial process.