Indonesia's War on Illegal Fishing Continues With New Sinkings
Despite some moderation, Jakarta is determined to eradicate the problem.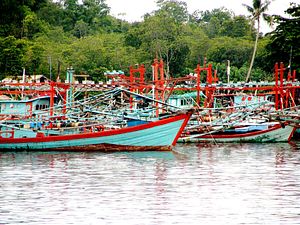 On October 29, the Indonesian government sank another 17 foreign vessels alleged to have been operating illegally in its waters. The development signals Jakarta's continued determination to pursue its declared war on illegal fishing despite the challenges it has encountered in doing so thus far.
As I have noted before, upon coming to power in October 2014, Indonesian President Joko "Jokowi" Widodo vowed to realize his vision of turning Indonesia into a "global maritime fulcrum" between the Indian and Pacific Oceans. While that vision has several pillars and implementation has been slow and uneven, one key manifestation of it has been clamping down on illegal fishing. Though Indonesia is the world's second largest fish producer, Jokowi himself has said that over 5,000 ships operate illegally in Indonesian waters each year, making a mockery of Indonesian sovereignty and resulting in annual losses of over $20 billion.
The most visible and controversial manifestation of Indonesia's crackdown on illegal fishing has been the public sinking of ships, dubbed the "sink the vessels" policy (See: "Explaining Indonesia's Sink The Vessels Policy Under Jokowi"). But Indonesian officials have been keen to emphasize – and rightly so – that there are other important economic, legal, and diplomatic efforts that are being undertaken at home as well, including a moratorium on issuing business licenses, the setting up of local fisheries courts, and international diplomatic efforts (See: "Indonesia Wants Global War on Illegal Fishing").
Though there have been some signs of moderation in terms of how the vessels are sunk and other diplomatic efforts with concerned countries, the sinking of ships itself shows no sign of stopping. So far in 2017, the government has sunk a total of 110 illegal fishing vessels, which has raised the total figure to 317. Last month, Indonesia's Minister of Maritime Affairs and Fisheries Susi Pudjiastuti said at a seminar that around 100 more illegal vessels would be sunk in the rest of the year. She also played up the success of Indonesia's tough line on the issue, touting figures such as the doubling of fish production from 6 million tons to 12 million tons per year. Sinking ceremonies have been planned in several locations across Indonesia out to the end of the year.
On Sunday, Indonesia carried out the sinking of 17 more foreign vessels in a ceremony that was witnessed by top defense officials. According to local media outlets, seven ships were sunk in Tarempa waters, and ten others sunk in Natuna waters, an area that has been subject to no shortage of international headlines in the wider context of the South China Sea (See: "Why Did Indonesia Just Rename its Part of the South China Sea?"). Rear Admiral Wahyudi Hendro Dwiyono, the operational director for Task Force 115 that carried out the sinkings, emphasized that the method used was making holes in the hulls of the ships rather than explosives.
Meanwhile, other initiatives within the war against illegal fishing are also continuing as well. For instance, Indonesian officials have also said that they are continuing with plans to display foreign-flagged vessels arrested by Indonesian authorities to educate the wider public about the importance of eradicating illegal fishing. Pudjiastuti reiterated earlier this month that ten foreign vessels from different countries would be used as museums, since simply sinking all of them would merely reinforce the allegations by some naysayers that the Indonesian government is massively exaggerating the extent of the problem.