Is Another Indo-Russian Defense Deal About to Falter?
India and Russia recently failed to agree on moving forward on a joint air transport project.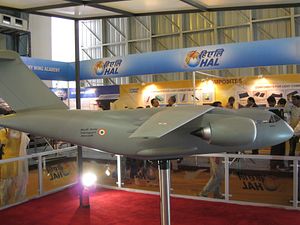 A joint Indo-Russian project to develop a new medium-airlift military transport aircraft, the UAC/HAL II-214 Multi-role Transport Aircraft (MTA), is "almost shelved," according to an Indian Defense Ministry source interviewed by Defense News.
The recent December 23 meeting between Indian Prime Minister Narendra Modi and Russian President Vladimir Putin failed to break the "stalemate" over the MTA program, a joint venture for which both countries have co-founded a new company, the Multi Role Transport Aircraft Ltd., established by Russia's United Aircraft Corporation (UAC) and Hindustan Aeronautics Ltd. (HAL), both of which invested $300 million in the project.
The new transport plane was expected to enter service by 2019. India was planning to purchase 45 and Russia around 100 aircraft. However, as of now, even the detailed design phase has not been worked out between UAC and HAL, despite a signed May 2012 general contract for the development of the aircraft.
"The transport aircraft [project] may be shelved because of three reasons. One is engine and secondly there are some internal conflicts in Russia between various stakeholders which is not allowing the desired progress. Thirdly, life of the AN-32 has been extended and the aircraft (upgraded)," according to a senior Indian Air Force official speaking to Defense News on the condition of anonymity.
"The MTA program is as good as dead, and a global tendering will take place," he succinctly added. The Indian Air Force is not happy with the selection of the PD-14M turbofan engines and other technical decisions taken by Russian engineers.(Most importantly, India wants the MTA to operate in higher altitudes than the current technical configuration would allow.) The Russian side also wants to increase the program development budget, something that India vehemently opposes.
The senior Indian Air Force official also noted that operational lifespan of the Indian Air Force's fleet of Antonov AN-32 transport aircraft has been extended from 25 to 40 years.
In 2009, the Indian Air Force signed a contract with Ukrspetsexport Corporation, Ukraine's state-owned arms trading company, to upgrade its 104 AN-32 transport aircraft and extend their service life. The $400 million upgrades included improved avionics, modernization of the cockpit, and a payload capacity increase from 6.7 to 7.5 ton
Forty aircraft were upgraded in Ukraine, according to IHS Jane's Defense Weekly, whereas 64 planes were to be domestically overhauled at the Indian Air Force's base repair depot at Kanpur through 2017.
However, as I reported in March 2015 (See: "Did Ukraine Just Lose 5 Indian Air Force Planes?"), work in Kanpur had to be discontinued due to missing spare parts and the premature departure of Ukrainian engineers. It remains unclear whether work on the aircraft was continued in the following months.
Additionally, India is seeking to replace its aging fleet of 56 Avro transport planes. So far no contract has been awarded to defense firms bidding for the estimated $3.5 billion tender.
The Indian Air Force operates a host of different transport planes including five C-130 J Super Hercules, 17 Iljushin II-76s, a number of Dornier Do 228s, and more than a dozen Boeing C-17 Globemaster IIIs.
During the annual India-Russia summit, Russian President Vladimir Putin and Indian Prime Minister Narendra Modi also failed to resolve an ongoing disagreement between the two countries over the future of a joint fifth generation fighter program (See: "India and Russia Fail to Resolve Dispute Over Fifth Generation Fighter Jet").