Is China Interfering in Vietnam's Politics With Its South China Sea Moves?
Some say Beijing is trying to influence the outcome of the Communist Party congress in Vietnam.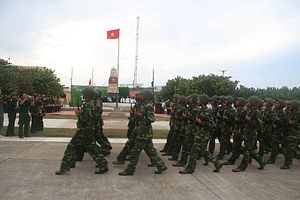 Are China's recent moves in contested maritime areas aimed to influence the outcome of a pivotal Communist Party congress now underway in Vietnam? Beijing's latest shows of force in the South China Sea have coincided with an unusually pitched and still unresolved struggle for Vietnam's ruling party's leadership, pitting Prime Minister Nguyen Van Dung, a two-term premier who has drawn progressively closer to the United States, againt incumbent General Secretary Nguyen Phu Trong, leader of a more conservative faction ideologically allied to China.
On Tuesday, Vietnam claimed that China had towed a massive oil exploration rig into waters both countries claim in the South China Sea and demanded that Beijing withdraw it from the area. A similar episode in spring 2014 sparked anti-China riots that ransacked Chinese and other foreign-invested factories, killed at least three Chinese nationals, and forced Beijing to evacuate thousands of its fearful nationals. At the time, Dung's hard and Trong's soft response to the perceived incursion underscored intra-party divisions that have since deepened over how best to manage China's rising assertiveness over control of nearby waterways.
The new rig furor follows on China's test flights to an artificial island Beijing recently built at the contested Fiery Cross Reef in the Spratly Islands. Hanoi said in a statement that the flights threatened regional aviation and called on Beijing to desist from future flights to the maritime feature. State media shrilly dubbed the flights, which reportedly passed through Ho Chi Minh City's flight information region, "kamikaze" missions. Beijing countered that it had advised Hanoi in advance of the flights and that because they flew over Chinese sovereign territory, the flights were exempt from international civil aviation regulations.
The diplomatic storms have cast a cloud over Vietnam's 12th National Congress, where top leadership positions will be determined for the next five years. Dung's faction had been ascendant in the lead-up to the congress, buoyed by his tough stand vis-à-vis China amid escalating territorial disputes. Many analysts had earlier predicted that Dung and his factional allies were poised to take the party's top four posts, namely party secretary general, prime minister, president, and National Assembly chairman, a quadrumvirate of power that if formed would be expected to tilt economically and strategically towards the United States.
That analysis began to shift in late December when Trong, 72, hinted at his intention to stay on for a year or longer as party general secretary, beyond the 65-year-old age limit for Politburo members to assume new posts. Dung, 66, would likewise require an special exception to become party general secretary. Reports indicated that Trong, not Dung, was nominated for the post at the party's Central Committee Conference held earlier this month, raising procedural questions if Dung can still be nominated and elected to the position at the national congress. The 1,510 party representative vote, usually a rubber stamp exercise on a pre-agreed candidate, is scheduled for January 27, according to news reports.
Some analysts suggest that China weighed on the Central Committee's decision against Dung, a move that by certain readings of the party's arcane procedures would force the pro-U.S. leader into mandatory retirement. On December 23, National Assembly chairman Nguyen Sinh Hung, deputy chairman Huynh Ngoc Son and members of the party Central Committee landed in Beijing for five days of meetings with senior Chinese leaders, including President Xi Jinping. State media said the visit aimed merely to promote bilateral ties. Independent analysts, on the other hand, have speculated Beijing leveraged the diplomatic occasion to voice its concerns about a possible Dung-dominated, U.S.-aligned government.
Vietnam's blogosphere, always heavy on calumny, slight and intrigue, has been particularly venomous in the run-up to the national congress. Yet Politburo member and Central Propaganda Committee head Dinh The Huynh felt obliged to publicly deny commentary spread widely on social media that Hung visited Beijing specifically to seek China's guidance on who should lead the party and government. Nguyen Tan Dung's unofficial eponymous website ran an article that same day entitled, "Do not allow China to interfere into Vietnam's internal affairs after a warm handshake" in reference to Hung's and Central Committee members' photo-op meeting with Xi.
Two days earlier, in a de facto campaign speech in Vietnam's one-party political system, Dung urged over 60 provincial and city leaders via video conference to fight against any actions or plots that aimed to interfere in the country's internal affairs ahead of the national congress, according to reports. Dung also underlined the need to firmly defend the country's sovereignty and territorial integrity, an appeal to nationalism vis-à-vis China known to resonate with many younger party members, not to mention the country's increasingly vocal but still harshly suppressed pro-democracy and independent blogger communities.
In an apparent tit-for-tat response, Trong visited various security units in Hanoi on January 2 to demand "total security" for the congress and remind commanding officers that their loyalty was first and foremost to the party. Three days later, military and police staged a mass exercise in the capital comprised of over 5,000 security personnel, a strong signal that Trong's faction maintains command control over the armed forces and that any anti-China or other protest mobilized coincident with the congress would be quickly suppressed. Whether those same forces could be called by Trong to void a vote or enforce a contested procedure is a question that suddenly looms heavily over Vietnam's most protracted and high-stakes leadership struggle in years.