Is North Korea Preparing to Launch A Long-Range Ballistic Missile?
The North could launch a long-range missile within a couple of days, according to media reports.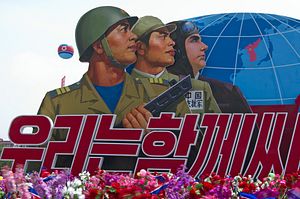 North Korea could fire a ballistic missile from its Sohae satellite launching station in North Pyongan Province in northwestern North Korea, The Yomiuri Shimbun reports based on information provided by a South Korean government source.
Similar to past North Korean practices prior to a missile launch, the area around the launching station has been screened off and an increase in traffic of both humans and vehicles observed, according to the source. Freight trains were also seen to be moving back and forth between missile factories and the rocket launching site.
Earlier, Japan's Kyodo News agency had announced that North Korea could test-fire a long-range missile within a week, based on satellite imagery analyses. However, it is "unlikely that North Korea will launch a missile out of the blue within a week," the source said.
"North Korea is likely to do it abruptly when they launch important provocative acts in the future," South Korean Defense Ministry spokesman Kim Min-seok said in a regular briefing, according to Yonhap News.
The spokesman also noted that North Korea has not declared a no-sail zone: "A no-sail zone is required internationally because North Korea's past long-range missiles or rockets flew to the east coast of the Philippines. But I have not heard so far on that."
"Since the completion of an extension on the launch site last year, the North is assessed to be able to conduct a sudden launch at any time," another South Korean government source noted.
United States intelligence sources have confirmed that a new space launch might occur in the near future, Reuters reports. "Our concern though is … it's the same technology to develop ICBMs[intercontinental ballistic missiles]," one U.S. official said.
Another unnamed official told AFP that  the preparations "[c]ould be for a satellite or a space vehicle – there are a lot of guesses. North Korea does this periodically – they move things back and forth… There's nothing to indicate it's ballistic-missile related."
North Korea's ballistic missile threat has been singled out by U.S. Secretary of State, John Kerry, this Wednesday in Beijing:
This is threat to any nation in the world, but particularly we in the United States understand what his purpose is and therefore it is a threat the United States must take extremely seriously. The United States will do what is necessary to protect people in our country and our friends and allies in the world.
North Korea launched its last long-range missile in December 2012. All in all it conducted five long-range missile launches since 1998. A new test would be in violation of United Nations Security Council resolutions.
As I reported previously, Japan's 2015 Defense White Paper  stated that Pyongyang is heavily investing into research and development of its long-range ballistic missile program  and is progressively more capable of surprise launches.