ISIS Claims Jakarta Terror Attack
Seven dead in a midday terrorist attack in the Indonesian capital.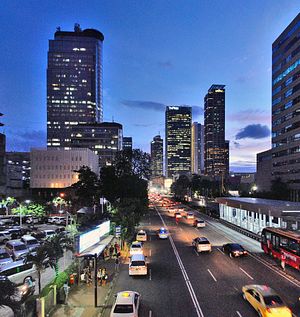 A midday attack Thursday in the Indonesian capital, Jakarta, has been claimed by the Islamic State, or ISIS. This is the first terror attack on Indonesian soil claimed by the group and took place in a central downtown location near Jakarta's oldest department store, Sarinah's, and outside a Starbucks.
The latest reports indicate that at least seven people were killed in the attack which consisted of several bomb blasts and gunfire. Reuters reported that five of the dead were attackers. Despite the fact the attack lasted three hours, with security forces exchanging fire with the attackers who also blew themselves up, it appears that there were only two civilian casualties–an Indonesian and a Canadian. Twenty people were injured in the attack.
Indonesia, which has the world's largest Muslim population, has been a target of ISIS recruitment efforts but the group has not had much success. According to a December Soufan Group report on ISIS foreign fighters, official estimates of Indonesians who have joined the fighting in Syria number around 700. Meanwhile, unofficial estimates say 500.
In claiming the attack, ISIS said in a statement that "A group of soldiers of the caliphate in Indonesia targeted a gathering from the crusader alliance that fights the Islamic State in Jakarta."
Hours before ISIS released its statement claiming the attack, Tito Karnavian, Jakarta's police chief, told reporters, "ISIS is behind this attack definitely."
The attack, which began before noon on Thursday, was live-tweeted by Jeremy Douglas, a UN regional representative working nearby. Others on social media tweeted pictures taken from the buildings around the site of the attack.
Indonesian President Joko "Jokowi" Widodo was on a working visit in West Java when the attack began. Urging calm, he said "The state, nation and people should not be afraid of, and lose to, such terror acts."