Aman Abdurrahman: Leading Indonesia's Jihadists from Behind Bars
An imprisoned Indonesian ideologue is on trial again, but his influence is unlikely to diminish.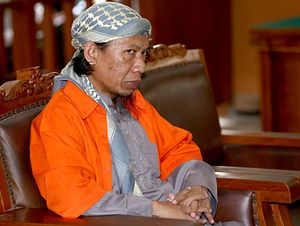 One of Indonesia's most seditious advocates of militant jihad is now facing the death penalty, having been charged with inciting followers to commit acts of terrorism including the 2016 attack on a Starbucks and police post in central Jakarta.
While rarely grabbing headlines like his counterparts in conflict zones, Aman Abdurrahman has perhaps been the most influential leader among the loosely constituted jihadi networks in Indonesia over the past ten years. What makes this authority remarkable, however, is the 46-year-old cleric from outside Bandung has been behind bars for 12 of the last 14 years.
A brief look at Aman Abdurrahman's rise offers insights into both the jihadi movement's contemporary evolution in Indonesia, and the challenges faced by an imperfect prison system tasked with confining such an intractable ideologue.
Translating jihad
Aman was first arrested in early 2004 after an unplanned explosion during a bomb-making class he was running at a property south of Jakarta. Eventually handed a seven-year sentence for his efforts, he would spend most of the next few years in the colonial-era Sukamiskin prison in Bandung.
Prison life provides little but time, and Aman decided to spend much of his translating texts written by radical scholars in the Middle East. With a solid grasp of Arabic developed during his studies at the Saudi-funded Islamic and Arabic College of Indonesia (LIPIA) in Jakarta, he soon became a prolific purveyor of jihadi scripture in Bahasa Indonesia and began disseminating sermons beyond the prison walls via mobile phone and recorded cassette tapes.
One area of focus for Aman was the works of Jordanian cleric Abu Muhammad al-Maqdisi, spiritual mentor to the late Abu Musab al-Zarqawi, founding leader of the Islamic State of Iraq (ISI). Aman was particularly drawn to Maqdisi's emphasis on the "near enemy" and prioritizing the subversion of "apostate" governments in Muslim majority nations over conducting symbolic attacks against the "far enemy" in the West.
Fleeting Stint of Freedom
Prisoners are commonly awarded remissions in Indonesia and Aman Abdurrahman was released in July 2008, despite concern from prison staff that he'd been radicalizing other inmates. Taking up a monthly slot at a mosque near Bandung, Aman became a popular fixture, further amplifying his message and providing an important meeting point for like-minded extremists.
Coinciding with Aman's release was the establishment of Abu Bakar Ba'asyir's Jama'ah Ansharut Tauhid (JAT) in September 2008, which aimed to conceal jihadist intentions behind a veneer of legitimate activism. Aman decided to join the growing organization but lasted only a few months before cutting ties. The Ba'asyir family apparently viewed the recently released cleric as takfiri, or too quick to label others as infidels.
By 2009, a sustained police crackdown had jailed hundreds and killed dozens of militants since the first Bali bombing, leaving the Indonesian jihadi movement in disarray. Elusive leaders devised a plan to string together remaining threads by setting up a training camp in rural North Sumatra. Aman featured prominently, denouncing the ineffectual bombing campaign driven by Noordin Mohammad Top, who was killed in a police raid that same year.
The attempted unification camp was swiftly dismantled by police following a tip-off from locals and Aman was arrested in March 2010 and charged with supplying funds and recruits to support the new initiative. Later that year he was sentenced to nine years in prison, much of which he has spent under maximum security on Nusakambangan Island, separated from mainland Java by thick jungle and a mangrove-lined river.
Liberty to Lead
Despite his confinement in one of the nation's most secure penitentiaries, by 2014 the Jakarta-based Institute for Policy Analysis of Conflict (IPAC) had labeled Aman "the most important ideological promoter of ISIS" in Indonesia. He pledged allegiance to al-Baghdadi's Islamic State organization from his prison cell in April 2014, and once again when the caliphate was declared two months later.
Aman's writing and recorded sermons continued to circulate, even picking up steam with energy supplied by events in the Middle East. From November 2013 to November 2014, he translated roughly 115 Islamic State articles, handing pages to his frequent visitors who would go home and upload them online where they swept through social media.
More surprising still, Aman was able to hold frequent phone conversations with other extremists in Indonesian prisons, including Abu Bakar Ba'asyir, rallying them to swear oaths to the self-declared caliph in Mosul. According to IPAC, prison authorities seized ten mobile phones from Aman and his prison yard posse in September 2014, which halted Bahasa Indonesia ISIS material spreading online "for almost a month," until Aman found a phone to buy off another inmate and business continued as usual.
Prison also failed to stop Aman from recruiting Indonesians to join the jihad in Syria. Having gained respect among ISIS leadership for his prolific propaganda, Aman earned the requisite trust to provide independent recommendations for Indonesians seeking to travel. Two "selection committees" were established near Jakarta and Aman would provide the final say from his cell in Nusakambangan.
Repairing Leaks
For several years, experts now at IPAC have urged the Indonesian prison service to police phone possession and monitor visitations more stringently. Written texts haven't always been seen as contraband to prison staff, who are more concerned with flows of drugs and weapons. Recently, authorities have become more attentive to intercepting propaganda, but phones remain a problem.
Some suggest that security officials in Indonesia allow imprisoned extremists to use phones in order to learn more about their networks. Most observers, however, believe it's simply the perennial problem of prison corruption. Where graft is ingrained in institutional culture, low-paid guards will inevitably succumb to informal financial opportunities.
Prosecutors in Aman's latest case are aiming for the death penalty But even if the South Jakarta District Court decides on this ultimate punishment, he will still spend many years in prison. His cellmate and close confidant, Iwan "Rois'"Darmawan, has been on death row since 2005 for his role in the Australian Embassy bombing.
Attempting to "de-radicalize" prisoners like Aman Abdurrahman is impossible. Authorities must instead focus on their effective management, which includes regulating their relationships. Indonesia's Directorate General of Corrections is building a brand new maximum security prison on Nusakambangan Island. With a bit of luck, it will have weak mobile phone coverage.
Cameron Sumpter is an Associate Research Fellow at the Centre of Excellence for National Security (CENS), a constituent unit of the S. Rajaratnam School of International Studies (RSIS), Nanyang Technological University (NTU), Singapore.