Jakarta Attacks Hit Vulnerable Target
Thursday's attacks could have some significant economic implications.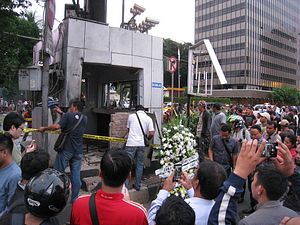 "I was so scared when I heard the bomb – it gave me goose bumps."
That was what one witness to Thursday's terror attacks in the Indonesian capital told Japan's NHK World, following a gun and bomb assault by Islamic State militants that killed seven and wounded 20 people. But while Indonesian President Joko Widodo said his nation would not be defeated by these "acts of terror," the impact of the attacks could extend well beyond Jakarta.
Indonesia was already being described by ANZ Research as "ASEAN's most challenged economy," well before the latest attacks in the world's most populous Muslim nation and Southeast Asia's biggest economy.
"Unlike the rest of Asia, where domestic sectors appear relatively well insulated to the [region's] trade recession, public and private spending both appear to be floundering in Indonesia as we enter 2016," ANZ chief economist, South Asia, ASEAN and Pacific, Glenn Maguire said in a January 8 report.
"Although [fourth-quarter] GDP figures – to be released in February – are likely to show a marginal improvement in growth, we expect that economic growth will continue to decelerate markedly through the first half of 2016. Indeed, given Indonesia's strong correlation to the Chinese slowdown – via commodity price disinflation – the trough in Indonesian economic growth is likely to be stuck in either [quarter one] or [quarter two] 2016 around the 4.5 percent level."
Maguire said the decline was particularly disappointing for an economy with an estimated potential GDP growth rate of around 5.5 percent. Despite a promising start in curbing fuel subsidies and reallocating spending to public works, Jokowi's reforms have failed to make an impact, he argued.
"None of the six stimulus packages have addressed the root cause of Indonesia's economic malaise – the lack of private and public investment. There is a lack of medium-term visibility on the economic outlook which will likely see private investment hampered. Difficulties with passing bills through parliament, such as land acquisition, continue to make public investment and spending marginal, rather than the centerpiece of Jokowi's economic agenda," Maguire said.
Private consumption, which accounts for 55 percent of GDP, has been hit by declining rural incomes and a weakening currency, while Indonesia's commodity exports have been badly hit by China's restructuring away from investment-driven growth.
Tourism Threatened
Thursday's attacks could also strike at Indonesia's key tourism industry, hitting Jokowi's plans to almost double arrivals to 20 million people by 2019 and raise tourism's contribution to GDP to 15 percent from 9 percent in 2014.
Foreign tourist arrivals grew by more than 7 percent last year, but the death of a Canadian national and wounding of a Dutch citizen in the latest attacks could slow Western arrivals. Western symbols were also targeted in the assaults, with a Starbucks café at the center and a McDonald's and other Western-style restaurants nearby along with United Nations offices.
According to Reuters, the number of Dutch visitors to Indonesia has surged by nearly 50 percent over the past decade from its low after the 2002 bombings on the resort island of Bali, in which 202 people died.
Indonesian tourism ministry spokesman Noviendi Makalam told the news agency he expected tourist arrivals to the capital to fall over the next few months, with Jakarta accounting for around 30 percent of total foreign tourist arrivals.
While the tourism ministry told Reuters it was sticking to its visitor forecasts, the threat of further terror attacks could keep foreign tourists away.
In its latest travel advice published January 14, Australia's Department of Foreign Affairs and Trade (DFAT) urged a "high degree of caution" for travelers to Indonesia, including Bali, "due to the high threat of terrorist attack."
"We continue to receive information that indicates that terrorists may be planning attacks in Indonesia. An attack could occur anywhere at any time. We recommend you be particularly vigilant during holiday periods including Christmas and New Year, Nyepi (Balinese New Year, March 9), Easter and Independence Day (August 17)," DFAT said.
More than 1 million Australians visited Indonesia in 2014, with nearly all going to the Hindu island of Bali. Major Australian companies also have bases in Jakarta, including banks ANZ and Commonwealth, which have more than 1,000 local employees.
On Thursday, ANZ's Maguire said a "quick stabilization in sentiment" could limit the economic damage from the terror strike, but further attacks could cause a more significant impact on both tourism and domestic spending.
"Our initial assessment is that growth in the first quarter of 2016 could be around 0.25 percentage point weaker than we were originally forecasting as a result of these attacks," he said, noting that the Indonesian currency and stockmarket had both dropped by around 1 percent on Thursday afternoon.
BI Responds
However, Indonesia's economic policymakers responded quickly, with Bank Indonesia (BI) cutting its key interest rate for the first time in 11 months in response to sluggish growth. The central bank reduced its policy rate by 0.25 percentage point to 7.25 percent, helping reduce losses in Indonesian stocks and boosting government bond prices.
"Assuming stability of the rupiah can be maintained, BI may follow-up with another rate cut this quarter," DBS Group economist Gundy Cahyadi told Bloomberg News. "Certainly, this is not a done deal, given how BI will still focus on maintaining rupiah stability in the market, amidst the lingering uncertainties in global markets."
ANZ Research said it expected further rate cuts to as low as 6.5 percent this year, on the back of the "failure of fiscal policy to gain traction" and the new downside risk of further terror attacks.
According to the Nikkei Asian Review, Islamic State's promises of housing and high salaries "appear particularly attractive to those left behind by Indonesia's economic development," with the terror group believed to have recruited more than 500 Indonesians to fight in the Middle East.
After the World Bank's recent forecast for the Indonesian economy to pick up speed in 2016, Jokowi suddenly has a lot tougher job in winning the economic battle and restoring confidence to the shell-shocked nation.