Japan's Fearsome World War II-Era 'Zero' Fighter Takes to the Skies
Plus, U.S. officials revise their opinion on North Korea's nuclear test, India steps up cyber cooperation, and more. Links.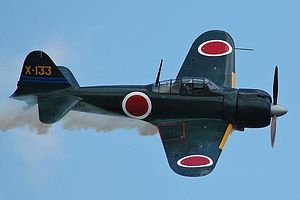 Some defense and security stores you may have missed this week:
An old bird flies. Military aviation history geeks marveled as a legendary World War II-era Japanese "Zero" fighter took to the air on Wednesday. The A6M "Zero" carried a fearsome reputation during the war, as one of the most capable and maneuverable dogfighters around. The maneuverability, combined with the long-range capabilities of the fighter, made it a formidable asset for the Imperial Japanese Navy in the Pacific theater of the war. The unit that flew on Friday was found in Papua New Guinea and restored to flightworthiness and was flown by a decorated U.S. Air Force pilot. Cockpit footage from the restored bird's flight is available here:
More evidence pointing to a boosted hydrogen device in North Korea. On Thursday, U.S. officials clarified their assessment of North Korea's January 6 nuclear test. The latest assessment, according to unnamed U.S. officials cited by Reuters, is that North Korea "possibly" tested a hydrogen bomb. However, it remains unlikely that the test involved a fully staged hydrogen bomb. The January 6 detonation occurred at a deeper depth than North Korea's four previous tests, suggesting a higher yield despite the similar seismic signature (both this month's test and the February 2013 test registered at a 5.1 magnitude earthquake). It remains likely that North Korea's detonated device was a "boosted" fission device—an intermediary step between a simple fission device and a fully staged hydrogen bomb.
India steps up cyber coordination. India's Computer Emergency Response Team (CERT) signed a range of cooperation pacts with analogous agencies in Malaysia, Singapore, and Japan. The Hindu notes that the agreements "will promote closer cooperation for exchange of knowledge and experience in detection, resolution and prevention of security-related incidents between India and the three countries." An independent report by FireEye last year revealed an increasing intensity of cyber attacks against Indian targets, primarily originating from attackers based in China.
New U.S. commander in Afghanistan. Gen. John W. Nicholson will take over from Gen. John Campbell as the commander of Operation Resolute Support in Afghanistan. Pending his confirmation by the Senate, Nicholson will step into the role at an uncertain time. Campbell has lead the U.S. effort in Afghanistan since 2014.
New Zealand shakes up its procurement division. IHS Jane's 360 reports that the New Zealand Ministry of Defense has appointed a new head to its defense procurement division. The leadership changes are wide-ranging, with new directors "in maritime, land, and sea acquisition domains." New Zealand's 2014 Defense Capability Plan outlined a range of strategic priorities driving the country's procurement decisions.