JF-17 vs HAL Tejas: New Competitors on the Military Block
The Pakistani and Indian fighter jets are set to compete in markets around the world.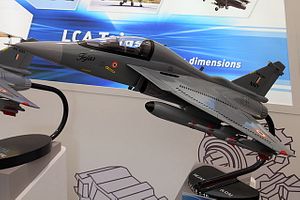 The Bahrain International Air Show slated to be held between January 21-23 at the Sakhir Airbase in Bahrain is supposed to be the first international symposium where India will showcase its indigenously built, but much delayed, Hindustan Aeronautics Limited (HAL) Tejas light combat aircraft. This move, reportedly taken at a "political level," could place the Tejas as an export option in the future and will expose it to much wider scrutiny over its performance and offerings in the international market.
However, even though this may become an exciting time for the Tejas as a potential option for foreign militaries for their arsenal, it has an interesting competitor from its own neighborhood. The JF-17 Thunder fighter jet, jointly developed by China's Aviation Industry Corporation of China (AVIC) and its Pakistani partner, Pakistan Aeronautical Complex (PAC), is also now in the export variety with similar attributes to those of the Tejas. In fact, at the Bahrain air show both the Tejas and the JF-17 are quite literally going to be pitted against each other, as they share parking space on the flight line tarmac right next to each other.
The HAL Tejas is still looking for its "carpe diem" moment, as the Indian Air Force, the project's main beneficiary, has made no qualms in admitting that it is not pleased about the delays over the Tejas Mk II variant of the model that it urgently wants to induct into its fleet. Meanwhile, manufacturer HAL has offered the IAF a Mk 1A variant instead, saying the Mk II variant is not expected to have its first flight before 2019, or enter series production before 2024. On the other hand, the Block 1 JF-17s have already seen service with the Pakistan Air Force, and are now expected to be upgraded to Block 2 standards (which includes mid-air refuel capabilities and improved avionics).
Both India and Pakistan understand the worth of a fighter jet such as the JF-17 and the Tejas in the specific markets where they are likely to compete. The light, maneuverable, low-maintenance and comparatively cheap offerings represented by both variants could find many takers; however the fact that the JF-17 is available for purchase today has already given it a head start, even if its production output remains sluggish. Other countries such as Myanmar, Nigeria and Azerbaijan are known to have shown interest in the JF-17. Both India and Pakistan themselves have operated the MiG 21 (Pakistan as the Chinese license built version Chengdu F-7), one of the world's most successful, duplicated, and cost-effective combat jets. Like the MiG 21 during its high-sales days, both the JF-17 and HAL Tejas could build customer bases in financially challenging areas such as Africa, Latin America and Southeast Asia, with many states looking for 'low-end' solutions to air defense needs.
The JF-17, now a predominantly a "for Pakistan by China" project (China does not operate the type in its military) made recent news after reports suggested that Sri Lanka was interested in purchasing eight JF-17s with further options. News of the deal came as Pakistani Prime Minister Nawaz Sharif made a state visit to Colombo; however, since the visit Indian apprehensions regarding the deal, attempts to sell the Tejas instead, and a recent quick visit by Foreign Secretary S Jaishankar seem to have stalled any such deal, if indeed one was in the making. Sri Lankan media outlets have said that the JF-17 discussion was "not on the table" with Pakistan, while an Indian defense news website has claimed that New Delhi is considering offering upgraded MiG 27s, a type already operated by Sri Lanka, free of cost to the country's air force.
Even if India has, or in the future does manage to scuttle Sri Lanka's attempts to procure the JF-17, the fact that it does not have the appropriate variant ready for IAF's very own needs, let alone international suitors, is a wake up call to the country's domestic military complex. India's previous homegrown success story in military aviation, the HAL Dhruv or the Advanced Light Helicopter, also ran into turbulence with its only international military buyer, the South American nation of Ecuador had purchased seven of HAL's Dhruv ALHs. However, since its addition to the Ecuadorian forces in 2009, four out of the seven helicopters have crashed. Two of the crashes were attributed to pilot error, but the other two were blamed on mechanical faults. Ecuador in October last year unilaterally cancelled its deal with HAL.
The new initiative by Indian Prime Minister Narendra Modi under his government's flagship "Make In India" program, a drive to uplift India's manufacturing sector, has accorded great importance to military development. India is currently one of the world's largest importers of weapons despite having many indigenous flagship military programs, specifically in the aviation sector. However, a concoction of poor project execution, stretched resources, political oversight, and lack of culpability over failed programs have stalled or completely cancelled critical projects like the Intermediate Jet Trainer (IJT), forcing the armed forces to look abroad to plug gaps.
For Make In India to be successful, concrete moves to develop India's R&D sector and involving the private sector heavily into the fold with pro-market policies will be essential. India has huge potential not only to successfully service its own military needs, but to become an exporter of arms in the extremely competitive global military industrial complex, but only if it applies correct policies, political will, and strategic tact.
While the HAL Tejas remains a proud symbol of Indian industry, the fact that it took nearly three decades for the project to get where it is today should be made into a handbook for the government and associated agencies on how not to botch critical national security projects in the future. As of today, the JF-17 with its operational experience makes more sense for potential buyers. India may have had some influence in Sri Lanka's interests for the JF-17, but it may not have the same leverage if other neighbors such as Myanmar or even Bangladesh consider the same option.
Kabir Taneja is a journalist and researcher specializing in foreign affairs, energy security and defence.