India's Tejas Light Combat Aircraft Is Combat Ready
India's Tejas light combat aircraft is finally ready for action.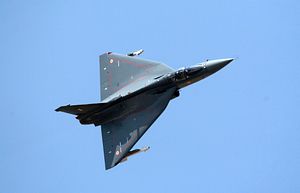 More than three-and-half decades after the Tejas Light Combat Aircraft (LCA) Mark-I was conceived, the fighter jet was accorded final operational clearance (FOC) by India's aviation certifying authority this week. FOC certification means that the Tejas fighter jet is now ready to be deployed in combat operations by the Indian Air Force (IAF).
The Tejas Mark-I was awarded FOC status by the Indian Aeronautical Development Agency (ADA) on February 20, according to a Ministry of Defense (MOD) press statement. The Tejas achieved initial operational clearance (IOC)—the minimum set of requirements for operational deployment of the aircraft by the IAF—in 2013 with the first Tejas Mark-I IOC squadron stood up in July 2016.
"FOC involves addition of key capabilities to the [IOC] aircraft which are beyond visual range missile capabilities," the MoD statement reads, including "air-to-air refueling, air-to-ground FOC earmarked weapons and general flight envelope expansion." The Tejas LCA's main air-to-air weapon system is the I-Derby BVR missile, which has been tested on several occasions over the past two years.
State-owned Hindustan Aeronautics Limited (HAL) will deliver four more Tejas LCA to the IAF in March 2019, bringing the total number of Tejas aircraft operated by the service to 16. The Tejas aircraft will be delivered in IOC configuration. "HAL plans to deliver the balance 4 IOC fighter aircrafts by March 2019," reads a MoD statement from earlier this month.
The MoD has ordered 40 Tejas LCA Mark-I aircraft from HAL, including eight tandem two-seat LCA trainer aircraft in two batches in 2006 and 2010.  The first batch of 20 consists of Tejas LCA IOC, while the second batch of aircraft will be in FOC configuration. As I noted repeatedly in the past, the IAF has time and again emphasized that the Tejas Mark-I variant does not meet the service's specifications and operational requirements.
Overall, the IAF demanded over 43 improvements and upgrades of sub-systems of the aircraft. Given the Tejas Mark-I FOC status, it appears that these deficiencies have now been addressed, although details remain murky. FOC aircraft are set to enter production this year. HAL will also set up a new assembly facility at Nashik in Maharashtra by 2020 to increase annual production from eight to 16 aircraft per year.
Additionally, the IAF is expected to place an order for 83 additional Tejas LCA, including 73 single-engine Tejas LCA Mark-IA, and 10 tandem two-seat LCA trainer aircraft. The Indian MoD will issue a request for proposal (RFP) for the aircraft soon, according to Indian defense officials.
ADA revealed a model of the Tejas Mk 2 Medium Weight Fighter at Aero India 2019 this month. "The IAF could order as many as 200 aircraft of this latest version of the light fighter jet," I wrote earlier this month. "However, the Tejas Mark-II will not be ready for its first test flight for at least another five years while foreign aircraft makers are pushing into the Indian military aircraft market offering cheaper and more capable alternatives."