Meet Chengdu's Ace Fighter Designer
Yang Wei might be an unfamiliar name to most observers, but his aircraft, and his underlying philosophy towards designing them, isn't.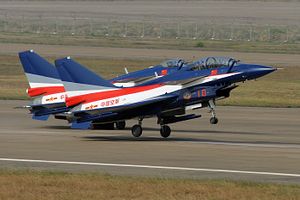 China is often considered a "Black Box" in terms of its military research and development. The opacity surrounding the often-hyped Chinese military modernization program has fueled much speculation about its potential, capabilities and its planned intended use by the Chinese Communist Party. Much of what has been written about the People's Liberation Army (PLA) has focused on either platforms (such as its aircraft carrier program or ballistic missiles) or policy makers and grand strategy (for example Xi Jinping's recent ambitious military reforms).
However, there is often little written about the soldiers on China's technological front line; the engineers and scientists who are actually designing and making (and pretty occasionally, stealing) the information and platforms that the PLA actually use. War is Boring's Robert Beckhausen provides a fascinating window into one of China's most influential and important contributors to its military modernization program.
Yang Wei isn't a familiar name, even to most China-watchers. However, the 53-year-old chief Director of the Chengdu Aircraft Design Institute is probably one of the most influential individuals in Chinese military aircraft development today. Most of what is known about Yang comes from a 2011 interview with Science and Technology Daily, the official newspaper of the Chinese Ministry of Science and Technology. Apparently, Yang has been a leading designer on two of China's most discussed aircraft: the new stealth fighter J-20 and the Sino-Pakistani JF-17 Thunder, which is being marketed as a low-cost export alternative to other, western and Russian fourth generation fighters.
What we know about Yang is that he was born in 1963, and enrolled at the Northwestern Polytechnical University in 1978 at the age of 15. He completed two degrees and became a control systems engineer at Chengdu. At 35, he became the youngest-ever director of such an important military research and development institute. In the interview, Yang is presented as the main designer behind China's innovations in electronic "fly-by-wires" controls in the 1980s. Furthermore, he is described as the main architect behind the PLAAF's introduction of all-digital aircraft simulation tests. As a result, Yang is hailed as the "man who broke the blockade of foreign technology."
This is probably oversimplified, but Yang is certainly an influential individual in the development of China's modern military aircraft. Beckhusen argues that Yang has basically invented the Chinese evolutionary approach to designing and building combat aircraft. Instead of designing and building a brand-new aircraft from scratch, it "borrows" from other countries' design, integrate some imported and/or indigenous technology, and produces it at a fraction of the price.
The J-20 is a good example of this. This aircraft is designed with foreign technology, by way of stealing the blueprints for the Lockheed-Martin F-35 and the F-22 Raptor. There is much speculation surrounding the combat effectiveness of both these aircraft, but one thing is for sure; the J-20 is probably going to be cheaper than its American counterpart. While no numbers are available for what the J-20 is going to cost, another, related Chinese stealth fighter, the J-31 Gyrfalcon, is reported to land at about $75 million. How much the F-35 will end up costing is anyone's guess, but according to Robert Farley, somewhere around $100-120 million is a possibilty.
As Beckhusen notes, the J-20 won't be a complete game-changer. It will probably not be as effective as the F-35 or certainly the F-22 (not least due to China's persistent problems with under-powered engines). However, in a little more than a decade, China went from having no stealth warplanes to entering the select club of countries in the fifth generation fighter business. That's no small feat. We can expect, owing to Yang's design philosophy, that whatever the J-20 becomes, it will not be radically different from what we've seen already. But then again, it doesn't have to be.
In the case of the JF-17, Yang's philosophy shines through in a different way. This aircraft is designed on the venerable MiG-21, but has been massively upgraded by the incorporation of advanced imported and indigenously designed tech, and is supposed to be comparable to older models of the F-16 Fighting Falcon. Again, not a revolutionary aircraft, and probably in the bottom half of the current fourth generation fighter ranking, but considering the price tag at $25 million, quantity becomes a quality in itself.
Yang has been able to keep almost entirely out of the spotlight, at least in English-language media. With several of China's most talked-about military aircraft being overseen by him, maybe its time the world took notice.