Russia to Test-Launch 16 Intercontinental Ballistic Missiles in 2016
In addition, Russia's Strategic Missile Troops plan to hold more than 100 other military exercises throughout the year.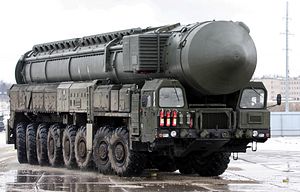 The Russian Strategic Missile Troops plan to test fire 16 intercontinental ballistic missiles in 2016, TASS reports.
"For 2016 we planned 16 test launches it intercontinental ballistic missiles, including flight test procedures for advanced weapons, and control of the technical readiness of missile systems that entered service. The number of test launches should increase next year," the Russian defense ministry told reporters.
Out of a total 16 test launches, 14 will be conducted as part of the development of new missiles and warheads, the Strategic Missile Troops Commander, Colonel-General Sergey Karakayev, elaborated, according to RT.
TASS also reports that the Strategic Missile Troops will hold more than 100 command and staff, tactical and special exercises in 2016. "The training will take place in a difficult and tense environment, with the involvement of joint force forces and means," according to the Defense Ministry.
Overall, Russia's Strategic Missile Troops are planning to test around 160 new weapon systems in 2016, twice as many as in 2015, Russian military spokesman Major Dmitry Andreev told reporters. Most of the tests will occur at Russia's primary missile test range in Kapustin Yar in Southern Russia.
It is likely that some of tests will involve launching a new hypersonic glide vehicle (HGV), the YU-71, which eventually could be mounted on the RS-28 Sarmat, the country's newest super heavy liquid-propelled thermonuclear intercontinental ballistic missile (ICBM) currently under development (See: "Russia's Secret New Weapon: Should the West Be Afraid?")
The Sarmat ICBM can carry ten heavy or 15 lighter warheads and is expected to be inducted into Russia's Strategic Missile Force by 2020, according to Russian media reports. Tests will, in all likelihood, also involve the RS-28 Sarmat.
Russia was planning to add 40 new ICBM to its missile force in 2015, including a number of RS-24 Yars (SS-27), Moscow's newest operational fifth-generation intercontinental ballistic missile (ICBM), which can carry multiple independently targetable nuclear warheads and was first introduced into service in July 2010.
Tests in 2016 will also likely include the launching of the RS-12M2 ICBM (the Topol-M missile system), which, along with the RS-24 Yars (SS-27), is slated to become the mainstay of Russia's Strategic Missile Troops over the next years.
As I noted in a previous piece ("Russia to Add 40 New ICBMs: Should the West Be Worried?"):
Russia is in the middle of modernizing its strategic and nonstrategic nuclear warheads. According to the Bulletin of the Atomic Scientists, Moscow has currently 4,500 nuclear warheads, of which roughly 1,780 strategic warheads are deployed on missiles and at bomber bases. An additional 700 strategic warheads are kept in storage along with approximately 2,000 nonstrategic warheads. "Russia deploys an estimated 311 ICBMs that can carry approximately 1,050 warheads," the Bulletin of the Atomic Scientists further notes.
Russia is in the process of retiring all Soviet-era ICBMs and replacing them with new weapon systems, a project that should be completed by 2022.