Russia's Gazprom Stops Buying Gas from Turkmenistan
The announcement illustrates how corroded gas relations between Ashgabat and Moscow have gotten.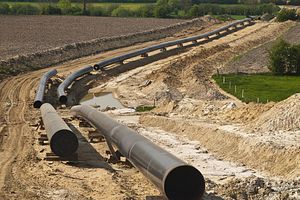 According to Turkmengaz, Gazprom has ceased importing Turkmen gas into Russia. The Turkmen state gas company said in a statement cited by multiple news agencies that the decision by Gazprom "stems from the changed situation on the international gas market, as well as individual economic and financial issues that Gazprom Export has."
So far, Gazprom has not commented on the issue. While Turkmengaz's statement certainly puts the responsibility for the suspension in Gazprom's hands, as Eurasianet noted, the language is not as harsh as that used during previously in the gradual deterioration on gas ties between the two countries:
The language emerging from Ashgabat is substantially more measured than that heard last year, when Turkmenistan reacted to Gazprom's announcement it was to slash the amount of gas it buys from the Central Asian nation by dubbing Russia an "unreliable partner."
As highlighted by the recent opening of Turkmenistan's East-West pipeline, relations between Turkmenistan and Russia in the gas realm once were much more promising. In 2007, the new Turkmen president (Berdimuhamedov's predecessor Saparmurat Niyazov died in 2006) agreed to build a pipeline along the Caspian Sea's shoreline through Kazakhstan and Russia with the ultimate goal of exporting 10 billion cubic meters of gas per year to Europe by 2010. But in the spirit of diversification, Turkmenistan pursued other routes as well — primarily pointed east to China. In 2009, the differences between Russia and Turkmenistan exploded — literally — when a piece of the Central Asia-Center pipeline network, run by Gazprom, exploded. Both sides blamed the other and the amount of gas Russia imported from Turkmenistan began to decline.
Gas exports tumbled from a 2008 high, as reported by Reuters, of over 40 bcm to a 2009-2014 average of 11 bcm per year. For 2015, Gazprom announced it would only be purchasing 4 bcm of gas from Turkmenistan. In July, Turkmenistan said Gazprom hadn't paid for any gas in 2015 and later that month Gazprom filed a lawsuit in an international arbitration court in Sweden demanding a revision of prices.
Both Russia and Turkmenistan are looking hopefully to China. Turkmenistan, which already does a booming business with China, expects exports to grow to over 60 bcm by 2020 (from about 30 bcm). Observers like Eurasianet, however, astutely point out that the price agreed between Ashgabat and Beijing is unknown and Beijing certainly has the stronger negotiating position. In addition, China helped finance the pipeline and Turkmenistan has to pay back the costs of construction. Put simply: Turkmenistan might not be making much of a profit from selling gas to China.
Russia, meanwhile, hopes to sell gas to China through the Power of Siberia pipeline. In May 2014 Russia and China settled a deal, after a decade of negotiations, worth $400 billion under which, Russia Today reported, "Russia will supply China [with] 38 billion cubic meters of gas per year via the eastern 'Power of Siberia' pipeline, which crosses Siberia and reaches China's populous northeast regions." But there hasn't been much progress since. In late December 2015, Gazprom canceled two construction tenders for stretches of the pipeline after the head of Russia's Federal Antimonopoly Service criticized them.
Turkmenistan also hopes to export to South Asia through the TAPI pipeline, which broke ground in December 2015. The goal is to complete construction in three years and export 33 bcm of gas annually to Afghanistan, Pakistan, and India. Without using the standard pun for this, suffice to say there is skepticism regarding the feasibility of building a pipeline through Afghanistan.