The Rise of Taiwan's 'Third Force'
Taiwan's liberals are poised to win big, thanks in part to a new political dynamic born from the Sunflower Movement.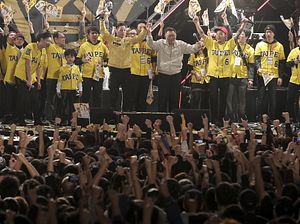 TAIPEI – Dressed in her lumberjack shirt, Kawlo Iyun Pacidal walks into a local government meeting on the east coast of Taiwan to oppose plans for a dog playground. The land is claimed as ancestral by the Amis, one of Taiwan's official indigenous groups.
Just before the meeting starts, Kawlo, an Amis, encounters the official who represents indigenous interests.
"You don't understand the Indigenous Basic Act at all," Kawlo throws at him. For Kawlo the dog park is the latest example of the majority Han Chinese government infringing on indigenous land rights.
Kawlo has been an activist since she worked at the TV station for Taiwan's indigenous community. But she may soon have to change her professional attire because she is now the top candidate for the New Power Party (NPP) in Taiwan's January 16 elections, and likely to become a member of Taiwan's 113-seat parliament. The party of civic activists wants more attention to democratic values and social justice, including issues such as same-sex marriage and indigenous land rights.
Her party is still on the margins, polling at 7 percent, but its rapid rise to become Taiwan's third party by passing the People's First Party (whose candidate qualified for presidential candidacy earlier this year) according to polls in recent months spells a major shift in Taiwan's political landscape.
Typically elections here have been assessed through the lens of relations with China. But a victory for the liberal Democratic Progressive Party (DPP) (as currently predicted) would presage a new era in another sense – a progressive climate favorable to protections for minority groups that have been stalled in parliament for years, such as the legalization of same-sex marriage and the implementation of indigenous land rights. While it is a feature of two-party dominated democracies to alternate leadership, a victory for the DPP in both the presidential and parliamentary election would be unprecedented for Taiwan's liberals.
Taiwan's democracy is relatively young. In 1949 Chiang Kai-shek fled to Taiwan after his defeat by the Communists in China. His nationalist government, the Kuomintang (KMT), ruled Taiwan as a Chinese government-in-exile, which extended martial law to the island. In the late 1980s opposition parties were allowed but it was not until 2000 that the DPP's Chen Shui-bian won the presidency – but was still on a leash as the KMT retained a majority in parliament. Two terms later, in 2008, the KMT was back in power with President Ma Ying-jeou. But support for the KMT has been eroding for years, and 2014 saw them suffer a landslide defeat in local elections.
According to recent polls, the DPP is predicted to secure a sweeping victory in the presidential election, and it is highly likely that a majority in parliament will also fall to the DPP – although poll indicators in Taiwan have been wrong before. That would mean that Tsai Ing-wen, a 59-year old politician who likens herself to Angela Merkel, will take power and her party would, for the first time win a majority in parliament, ousting the KMT's rule.
Taiwan's slumping economy and rising wealth inequality are central issues in the current election campaign – candidates from all camps have promised to focus on inclusive economic growth. The KMT has always relied on economic growth to justify deepening economic ties with China, but the DPP presidential candidate Tsai Ing-wen argued that it has left Taiwan too reliant on and vulnerable to China. Instead, she says, Taiwan should focus on economic partnerships elsewhere – for example by joining the Trans-Pacific Partnership. KMT candidate Eric Chu argued that Tsai's policies would only destabilize cross-strait relations and hurt the economy even more.
But it is not all about economics. "What people have felt most about President Ma Ying-jeou's administration was the huge distance between the people and the government," Tsai said during the last televised debate on January 2 – a feeling endorsed also by the NPP.
After years of growing dissatisfaction with the KMT, some believe a vote for the opposition DPP is not enough. Enter the NPP, an eclectic mix of civic activists who coalesced last year and are now Taiwan's third largest party according to recent polls.
The Rise of the NPP
NPP's activists decided to take their political agenda from the barricades to the ballot early last year, in the wake of mass protests in 2014 that became known as the Sunflower Movement. The main cause was the allegedly unconstitutional passing of a trade pact with China, which had not undergone a clause-by-clause review and the full scrutiny of public hearings with NGOs and industry representatives present. After years of President Ma Ying-jeou's mounting coziness with China, it was the straw that broke the camel's back.
A year after they ended their sit-in and occupation of Taiwan's parliament, the movement's key leaders established the NPP and some will re-enter as members.
Rooted in the Sunflower Movement, it is no wonder that the NPP is assertive on Taiwan's independence. The NPP's activists-turned-politicians take a more assertive stance toward China, leaning more towards independence in contrast to the DPP, which supports the ambiguous status quo and stability of cross-strait relations.
NPP candidate Freddy Lim, the lead singer of black metal band Chthonic and former chair of Taiwan's Amnesty International, is an avid advocate of recognition by the United Nations of Taiwan as a sovereign state. The band's tour several years ago was labelled "Taiwan UNlimited," in reference to a then-rejected bid by Taiwan for diplomatic recognition.
When in November 2015, Ma Ying-jeou met with Chinese president Xi Jinping in a historic meeting in Singapore (a Chinese president had never before with his Taiwanese counterpart), protesters tried to storm Taiwan's presidential building. Lim said, in an interview with The Guardian on December 26: "[Taiwanese people] don't necessarily want to be estranged from China, but they do want to exist as different entities. Four years ago, President Ma Ying-jeou said he would never meet with the president of China, then he is there, shaking his hand, and without any consideration of the people's feelings. The people of Taiwan feel let down."
But the NPP's political rhetoric should be interpreted as pro-Taiwan rather than anti-China. Their political agenda is strongly focused on progressive social justice, human rights, and democratic values. Their economic policy focuses on higher corporate and luxury taxes in order to redress wealth inequality. The Sunflower Movement itself was not solely an anti-China manifestation – it was the culmination of years of a maturing social movement scene and social unrest.
In past years civic activists raised awareness and escalated protests on issues such as forced land evictions and the demolition of homes in Dapu; the suspicious death of a conscripted soldier that raised issues of accountability and corruption in the military and saw 300,000 protesters gather on the streets; the legalization of same-sex marriage; and indigenous land rights.
Taiwan's "Third Force"
NPP chairman Huang Kuo-chang, a legal scholar and long-time civic activist, said in the months after the Sunflower Movement that civil society had awakened and that a "third force" had entered Taiwan's politics. Along with the NPP, that "third force" also includes other, smaller parties that are focused on social justice, such as the Green Party and the Social Democratic Party, which was also established in the wake of the Sunflower Movement.
These "third force" parties "are marketing themselves [as] representatives of the social movement scene," says Dafydd Fell, director of the Taiwan Studies centre at SOAS, University of London. "There has been a gradual shift in a large number of cultural values in the last decades," he said, which is caused by a range of factors "such as a strong women's movement, gay rights movement, [and] links to political parties."
Victoria Hsu, for example, is a candidate for the Green Party/Social Democratic Party alliance, and the CEO for the Taiwan Alliance to Promote Civil Partnership Rights. She wants to enter parliament in order to lobby for the legalization of same-sex marriage, a legislative proposal first coined under the DPP-led government of Chen Shui-bian but which has also been stalled ever since. She hopes that a liberal government will finally pass the bill, making it Asia's first government to allow same-sex marriage.
Kawlo, the dog park opponent, is the top candidate for the NPP's legislator-at-large list. Of parliament's 113 members, 73 are elected from electoral district on a first-past-the-post basis, six are elected from indigenous communities directly, and 34 are elected from lists based on nationwide votes for specific parties.
Once elected, Kawlo plans to work to implement the Indigenous Basic Act. The law passed in 2005 under the DPP-led government of Chen Shui-bian, but its provisions have never been given full effect in related legislation. Taiwan's indigenous people, ethnically linked to other Austronesian people across the Pacific, inhabited the island long before Han Chinese migration started in the 17th century. Their land, however, has been continuously 'nationalized,' first by the Japanese settlers in the 19th century, and subsequently the KMT. Whilst many indigenous people have applied to formalize their claims to ancestral land, Kawlo explains that without full implementation of the Indigenous Basic Act, municipal governments are still able to continue development on contested plots of land.
"The current Ma Ying-jeou government is not very keen to indigenous issues, the main reason being, he is more interested in China issues, and so to some extent even suppresses the vibrant indigenous legislation process," says Chun-chieh Chi, professor in ethnic relations at Donghua University. Chen Shui-bian's DPP era was more proactive in advancing indigenous legislation, he says, because it enables them to point to the significant differences between Taiwan and China.
But the NPP is taking it further, with its political agenda fully focused on pro-Taiwan issues and transitional justice – in this case a redress of the wrongs inflicted on indigenous communities.
The DPP has taken notice of the growing popularity for "third force" parties. It is attempting to lure voters by nominating a record number of its own social movement activists, said Fell, and by supporting non-DPP candidates in some electoral districts to directly confront the KMT.
"The issues [these "third force" parties] are raising are very salient in this election, but for that reason they have also been adopted by the DPP," said Jonathan Sullivan, a Taiwan specialist at the University of Nottingham in an email interview.
But even though the support for these "third force" parties this election campaign has been unprecedented, getting into parliament is going to be challenging, believes Fell: "If there is going to be a long-term effect I think it's critical that they do make a breakthrough this [election]."
"Many of these parties are movement based rather than political organizations, and the political ground is thoroughly taken up by two main parties so it is hard to see how they can grow. The major parties' control of resources will keep the small parties marginalized," says Sullivan.
Even if the NPP fails to breach parliament's walls, it has already recalibrated politics. Taiwan's youth "identifies very strongly with Taiwan and with the experience of democracy," Sullivan said, and this goes beyond any concern over cross-strait relations.
A victory for the DPP in both presidential and parliamentary elections, and a strong showing by newcomer NPP in parliament, would usher in a historic era of liberal politics favorable to strengthening Taiwan's democracy and respect for human rights and social justice.
Linda van der Horst holds a Master's degree in Modern Chinese Studies from the University of Oxford. She is a lawyer in the U.K. and currently a journalism fellow at the Munk School of Global Affairs. You can follow her on Twitter: @LindaXiaXian