US, Asia Allies Set For Military Exercise Cope North 2016
Washington and five Asian allies prepare for largest iteration of air exercise next month.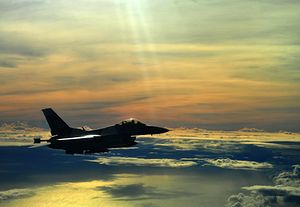 The United States and five of its allies are set for the largest ever iteration of an annual multilateral air exercise to take place next month.
According to the U.S. Air Force in a press release seen by The Diplomat, the United States along with Australia, Japan, New Zealand, the Philippines and South Korea will participate in this year's iteration of the Cope North exercise, a longstanding exercise designed to enhance multilateral air operations. The exercise will run from February 10 to 26 out of Andersen Air Force Base in Guam.
Cope North, which originally began as a quarterly bilateral exercise between the United States and Japan, gradually expanded in scope to include South Korea, followed by New Zealand and the Philippines which both participated for the first time in the humanitarian assistance and disaster relief (HA/DR) portion of the exercises last year (Singapore and Vietnam also sent observers). It was first held at Misawa Air Base in Japan before being moved to Andersen Air Force Base in 1999.
Cope North 2016 next month will feature some 1,855 personnel along with more than 100 aircraft. It is expected to begin with a two-day table-top HA/DR exercise to enhance command and control prior to the week-long HA/DR training – the first time such a table-top exercise has been carried out. The second part of the exercise will then shift focus to various kinds of training, including in air combat tactics and air-to-ground strike missions.
Pacific Air Forces spokeswoman Christen Ornella told Stars and Stripes that this would constitute the largest Cope North to date in terms of the number of aircraft involved.
"This is the largest Cope North to date with more aircraft than ever," she said.
Of the aircraft, 74 would be from the United States, with 22 from Japan, 9 from Australia and one from South Korea. Ornella said that U.S. aircraft would come from bases in mainland Japan, Okinawa, Alaska, Guam and the continental United States, including F-15 and F-16 fighters, B-52 bombers and C-130 transport planes. In a first, the U.S. Air Force said in its press release that its 353rd Combat Training Squadron from Eielson Air Force Base, Alaska will participate in the exercise and conduct multilateral survival training this year.