US, Thailand Conclude Annual Military Exercise
CARAT Thailand 2016 ran from June 16 to 23.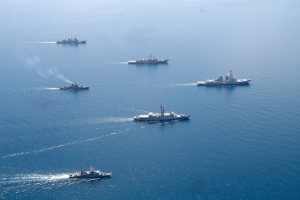 From June 16 to 23, the United States and Thailand conducted the 22nd iteration of their annual Cooperation Afloat Readiness and Training Exercise (CARAT).
As I have written previously, CARAT is part of a series of bilateral naval exercises conducted by the U.S. Navy with partners and now involves nine countries in South and Southeast Asia – Bangladesh, Brunei, Cambodia, Indonesia, Malaysia, the Philippines, Singapore, Thailand, and Timor-Leste (See: "US Eyes Expanded Military Exercises with ASEAN Navies").
On June 16, the U.S Navy, the U.S. Marine Corps, and the Royal Thai Armed Forces began the 22nd iteration of the Thailand leg of the exercises. CARAT Thailand consisted of eight days of shore-based and at-sea events through June 23 designed to address maritime security concerns as well as to build relationships and enhance interoperability between the two sides.
U.S. assets participating in CARAT Thailand 2016 include the Arleigh-Burke class guided-missile destroyer USS Stethem (DDG 63), the Safeguard-class salvage ship USNS Salvor (T-ARS 52), USNS Montford Point (T-ESD 1), and a P-3C Orion.
According to a press release on the exercise by Task Force 73 – a U.S. Navy task force of the Seventh Fleet which coordinates exercises for Southeast Asia – this year, the two navies participated in a wide range of interactions including an air defense exercise, deck-landing qualifications, a gunnery exercise, anti-submarine warfare training, complex surface warfare maneuvering tactics, and a communications drill using the Code for Unplanned Encounters at Sea (CUES), a set of protocols for the safety of naval vessels meeting at sea negotiated in 2014 at the Western Pacific Naval Symposium (See: "US Wants Expanded Naval Patrol Amid China's South China Sea Assertiveness").
The press release noted that U.S. Marines from 3rd Marine Division embarked on the amphibious dock landing ship USS Ashland (LSD 48) to conduct an amphibious landing with their Thai counterparts. In addition to the amphibious landing, the Marines conducted training and shared tactics on security operations and jungle warfare.
Meanwhile, this year's harbor phase featured a diving exercise, an engineering project, explosive ordnance live-fire training, visit, board, search, and seizure training, and medical and aviation training symposia, along with five community service events and eight band performances.
The exercise concluded June 23 with closing ceremonies held at the Royal Thai Navy Base in Sattahip.