Vietnam's Party Chief Nguyen Phu Trong Keeps His Post
After rumors of an intense leadership struggle, Vietnam's top leader will retain his post.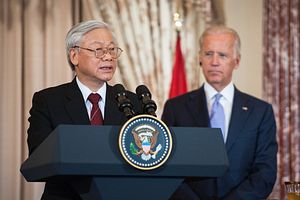 Meet the new boss, same as the old boss – Vietnam's new leader will in fact be its current leader, Nguyen Phu Trong, who has won a second term as general secretary of Vietnam's Communist Party, local media reports. The state-run Vietnam News Agency released a photo of Trong receiving a bouquet from other members of the party's Central Committee, with the caption saying he was being congratulated on his re-election.
Trong's leadership position, and the make-up of the rest of the Politbuto, will be officially approved by Vietnam's 12th National Party Congress tomorrow. As for the other leadership positions up for grabs, Thanh Nien News reports that the current Minister of Security Tran Dai Quang will take over as president and Deputy Prime Minister Nguyen Xuan Phuc will be prime minister (though those posts won't be confirmed until the early summer, when the National Assembly meets). That conforms to early reporting based on deliberations by the Central Committee in early January.
Trong's victory comes after his main opponent, current Prime Minister Nguyen Tan Dung, withdrew from the race (along with current President Truong Tan Sang). Dung was seen as a strong challenger to Trong, making this a hard-fought leadership contest. The leadership question took on a geopolitical tinge as well, with Dung being seen as tougher on China and more in favor of cultivating a relationship with the United States. Many analysts thought Dung's nationalistic appeal (and his strong ties among the business elite) could him an edge over Trong, but Trong's hold over the party apparatus remained firm.
Now Dung, in accordance with party rules, will retire. At 66, he is technically too old to serve another term on the Central Committee. The flexibility of those rules, however, is shown by Trong's reelection – at 71, he must have been granted an exemption to the age limit rule (his second such exemption) to continue on as party chief. Dung's position as prime minister will now fall to Nguyen Xuan Phuc, another member of the Trong camp.