Why India and Pakistan Agreed to Delay Scheduled Talks
The two sides delay scheduled talks as India waits to see Pakistan's resolve in acting against Jaish-e-Mohammed.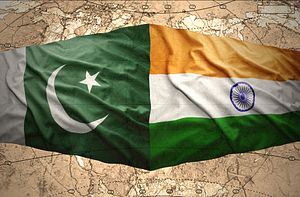 India and Pakistan have mutually decided to postpone their foreign secretary-level talks, which were originally scheduled for January 15. The decision to do so  is the latest in a chain of events following a militant attack against the Indian Air Force base at Pathankot. The Pathankot incident was suspected of having been planned and perpetrated by militants fighting for Jaish-e-Mohammad (JeM), a Pakistan-based terror group led by Masood Azhar. The postponement of the scheduled diplomatic talks does not represent a collapse of the diplomatic rapprochement between India and Pakistan that began with Indian Prime Minister Narendra Modi's surprise stopover in Lahore, Pakistan on December 25, 2015.
Critically, the decision to postpone talks comes after Pakistan took the step of acting on intelligence provided to it by India in the wake of the Pathankot attack and arrested a range of JeM operatives. Though yet to be officially confirmed by Pakistan, Masood Azhar, JeM's leader, has reportedly been taken into protective custody by Pakistani authorities. Vikas Swarup, spokesman for the Indian foreign ministry, said that New Delhi had not "received official word on detention of Masood Azhar." Late Thursday evening, Rana Sanaullah, Pakistani Punjab's law minister, confirmed that Azhar was in "protective custody," but would only face legal proceedings if his involvement in the Pathankot attacks could be proven beyond a doubt.
Azhar's detention, if confirmed, would be an encouraging development that the Pakistani civilian government, led by Nawaz Sharif, is increasingly able to set the terms for how the country reacts to Indian demands. JeM was almost certainly the organization behind the attacks at Pathankot, and may have even played a role in planning an attack that same week on India's consulate in Mazar-e-Sharif, Afghanistan. Reports suggest that Azhar's location is being kept secret for the moment amid concerns that JeM fighters could attempt to free him.
The days since Pathankot have provided a useful litmus test of whether the post-Lahore rapprochement between India and Pakistan is based on a substantive change in the bilateral dynamic. Following the attacks, Indian Prime Minister Narendra Modi immediately reached out to his Pakistani counterpart, effectively providing an ultimatum that talks could not go on without good-faith action on the Pakistani side to bring the perpetrators to justice. Several observers of the India-Pakistan relationship—myself included—took that to suggest that the talks would be called off. Pakistan has proven both unwilling and incapable in the past of responding to these sorts of requests from the Indian side.
Yet, days after the original Indian request, Sharif's office released a statement noting that "several individuals belonging to Jaish-e-Mohammed have been apprehended." The statement added, "The offices of the organization are also being traced and sealed." Despite this remarkable and positive step, the talks have been postponed. Both sides are currently consulting on a suitable date for the foreign secretary-level talks, which are expected to pave the road to the initiation of broader comprehensive peace talks between the two neighbors.
India's decision to recommend a postponement of the talks despite Pakistan's action against JeM appears prudent until Masood Azhar's detainment can be confirmed. Additionally, it remains to be seen if New Delhi will insist on Azhar's trial or possible transfer to India. Azhar's position at the center of this all could complicate matters. Pakistan's military establishment—particularly its Inter-Services Intelligence (ISI) Directorate—will likely draw a red line on Azhar's treatment. Along with Lashkar-e-Taiba, JeM militants receive training and support from the ISI. It's unclear just how far Pakistan is willing to go with Azhar and the other captured JeM operatives.
Seen from New Delhi's perspective, the postponement of talks will test the Pakistani government's resolve to push forward with accountability for Azhar. If the talks had gone on as planned, Pakistan would have faced less pressure on the Azhar issue. In some ways, the current situation—with a prominent anti-India militant leader at the center of it all—hearkens back to the India-Pakistan tussle over accountability for Hafez Saeed and Lashkar-e-Taiba. One important difference, of course, is the baseline trust and diplomatic capital is considerably better.
We should learn of the fate of the foreign secretary-level talks soon enough. In the meantime, the issue of Azhar's detainment and accountability for JeM in Pakistan will be at the top of the agenda in India.
Note: On a recent podcast, I speak with the Woodrow Wilson Center's Michael Kugelman about India-Pakistan relations in the aftermath of the Pathankot attack.