China Hits Back at International Criticisms Over South China Sea Missiles
Plus, updates to previous reports on Ling Wancheng, Cornwallis Reef, and Liu Xiaobo Plaza. Friday China links.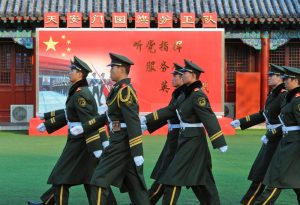 Reports that China has deployed two batteries of HQ-9 surface-to-air missiles on Woody Island, one of the Paracel Island group in the South China Sea, have predictably led to exchange of diplomatic barbs. The United States in particular has expressed its concerns, with Secretary of State John Kerry saying that "there is every evidence every day that there has been an increase of militarization of one kind or another [in the South China Sea]. It's of serious concern."
Today, a round-up of Chinese responses to that critique, starting with Foreign Ministry spokesperson Hong Lei's counter-accusation that the United States is actually responsible for any militarization of the region: "[T]he current situation is that the US keeps increasing its military presence in the South China Sea…It is those actions, which heightened tensions in the South China Sea, that are militarizing the South China Sea."
Hong also hit back at concerns from Australia and New Zealand, telling those two states to "objectively view the historical records of the South China Sea issue, instead of ignoring facts and offering unconstructive advice."
Meanwhile, Xinhua has a pair of op-eds and commentaries on the issue for your weekend reading: "U.S. has hard time justifying criticism of China's actions in South China Sea," and "Washington's destabilizing role in South China Sea." There's nothing new really here – China has often accused the United States of militarizing the South China Sea and "stirring up tensions" in the disputed region. But the juxtaposition of U.S. and Chinese statements on the missile deployment (which China has yet to confirm or deny) provides a useful reminder of the massive perception gap on the South China Sea.
In economic news, last week, Caixin scored an exclusive interview with Zhou Xiaochuan, the governor of the People's Bank of China. This week, they've posted an English transcript. In the interview, Zhou joins the chorus of Chinese officials defending the fundamental health of China's economy. In particular, Zhou maintains that the renminbi, China's currency, is healthy, that capital outflows are normal, and that China will not pursue further depreciation.
In other news, People's Daily reports that China is able to detect U.S. F-22 stealth fighters, according to Chinese military experts.
Remember the Chinese media reports that claimed Vietnam had undertaken new land reclamation in the Spratlys – only to see it washed away by a Typhoon in December? The Asia Maritime Transparency Initiative has done its own analysis of Vietnam's reclamation and the effect of the typhoon, including an analysis of the pre-existing structures on Cornwallis Reef, what Vietnam actually did, and how it compares (legally and environmentally) to China's actions elsewhere in the Spratly.
In another update to a previous Diplomat story, a State Department spokesperson said expects President Barack Obama would veto a bill calling for the plaza in front of the Chinese Embassy in Washington, D.C. to be renamed after imprisoned dissident Liu Xiaobo. Mark Toner, a deputy spokesperson at State, said legislative action such as the Liu Xiaobo Plaza bill "only complicates our efforts" to encourage China to respect human rights.
And one final update, to earlier reports that Ling Wancheng, brother of ousted official Ling Jihua, had fled to the United States and was offering up state secrets to Washington. Ling Wancheng's attorney, however, dismissed those reports as "absurd rumors" in a conversation with Reuters. The rumor "that he has handed over state secrets to the U.S. government, reported by media outlets, is a baseless lie and a groundless defamation," attorney Gregory S. Smith said. He added that Ling "came to the U.S. to share golf secrets, not state secrets."