China's Foreign Trade Dropped 8 Percent in 2015
Despite the glum news, Commerce Minister Gao Hucheng remains upbeat about trade growth in 2016.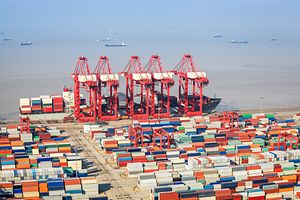 China's foreign trade shrank by 8 percent in 2015, far off the target of 6 percent growth set at the beginning of the year, China's commerce minister revealed on Tuesday. Gao Hucheng made the announcement in a press conference on China's trade development last year.
According to Gao's figures, most of the decline came from rapidly slowing imports. China's exports only dropped 2.9 percent in 2015, but imports were down 14.1 percent. Overall, he described 2015 as a year when China faced "exceptionally complex and severe circumstances both domestically and internationally."
The commerce minister blamed the slowing trade rates on "global uncertainty," particularly declining commodity prices and "geopolitical conflicts as well as outbreaks of diseases and terrorism." The unpredictable nature of those events, according to Gao, was why China's original estimates for 2015 were so far removed from reality. He also defended China's trade data by pointing out that the decline in China's imports and exports was "far lower than" declines experience by China's major trading partners and neighbors.
"We've already grown used to high growth; we're not used to negative growth," Gao told reporters. "We think that negative growth means there is a problem, but in truth global trade experienced negative growth in 2015."
However, he remained upbeat about China's trade prospects in 2016, even though many of the challenges he noted from 2015 remain ongoing. Gao pointed to double-digit growth in the sale of consumer goods in 2015. He also noted that exports and imports related to the service industry actually grew by 14.6 percent in 2015, a bright spot amid otherwise gloomy figures.
To date, though, Gao acknowledged, the trends of 2015 have continued. According to January's trade data from the General Administration of Customs, China's exports for the month were down 11.2 percent year-on-year, and imports fared even worse, dropping 18.8 percent. All told, China's foreign trade dipped 9.8 percent in January. It was the seventh straight month of declining export data, and the 15th straight month of declines in imports.
That's a sharp contrast from the past 30-plus years of "reform and opening," during which China's foreign trade grew by an average of 15.3 percent each year, as Gao pointed out in his press conference. However, Gao also noted that, even with its decline in foreign trade, China still ranked number one in the world in trade in goods and merchandise and in export amounts (as it has each year since 2013).