How Safe is ASEAN from Global Economic Turmoil?
Recent numbers indicate that some members of the bloc may be more insulated from a downturn than initially thought.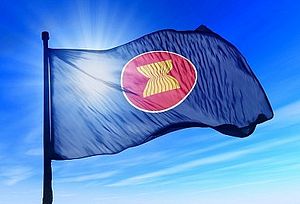 Early numbers indicate that the ASEAN Economic Community (AEC) will substantially aid the regional trade bloc in fending off the full, negative impact of a downturn in the global economy, particularly among smaller members.
This was apparent in Cambodia this week with the release of fixed asset investment figures which jumped to $319.4 million in 2015, up a very healthy 56 percent on the corresponding period for a year earlier.
Tourism and agriculture were major beneficiaries, with Singapore the largest investor with investments worth $101 million, followed by Vietnam with $89 million, Malaysia with US$74.7 million and Thailand with $54.7 million.
While most of the recent evidence points to a hard landing in the global economy, these numbers are the first to suggest that ASEAN trade within itself is mitigating the fallout from China which has helped fuel rapid regional growth for the last twenty years.
Exports from ASEAN into China rose about 20 percent a year for most of that period but this is expected to drop sharply with Chinese growth slumping from double digits to an anticipated 6.3 percent for 2016.
The Cambodian numbers should also hearten supporters of the AEC. A key plank in bringing down tariffs and trade barriers across the region, particularly in ASEAN's smaller economies, the AEC was launched on January 1 with promises of free trade in eight professions.
In ASEAN's wealthiest economy, growth in fixed asset investment appears to have stalled. Singapore's Economic Development Board (EDB) announced that fixed-asset investments had dropped to $8.02 billion last year, slightly down from $8.23 billion a year earlier.
The worst from the current downturn is obviously yet to come but these figures were better than the EDB's initial expectations of US$6.3 billion to US$7.67 billion for the year.
Those numbers are expected to fall to between US$6 billion to US$7 billion over 2016.
EDB chairman Beh Swan Gin said the latest numbers were proof of Singapore's resilience and attractiveness as a global business hub for firms in Asia.
"It's fair to say that the global economy has had a rough start to 2016, and understandably many businesses are quite cautious about the operating environment," he said.
Cambodia is hoping the AEC will help it cope and provide it with a second wave of foreign investment in its post-war reconstruction, now in its 17th year. The first wave followed membership to the World Trade Organization (WTO) in 2005.
The latest figures were also good news for the Cambodian government, which last week suffered the ignominy of being labelled as ASEAN's most corrupt country on the Transparency International (TI) 2015 Corruption Perceptions Index.
Poignant for TI was the undue influence it said was exerted over the Cambodian courts by the politically-connected and well-heeled. This had offset improvements in the education and commerce sectors which had benefited from reforms that promote young and competent people.
The results, however, were met with great skepticism here among the business community who were left wondering why Cambodia was still ranked behind Vietnam and Laos – where governments are unelected and corruption notoriously in-grained with the bureaucracy.
Of just as much concern was why Malaysia, where multi-billion dollar corruption scandals have been linked to three murders and Prime Minister Najib Razak in recent years, rated so favorable on the TI Index, coming in second for the region behind only Singapore.
"It leads one to think that TI in Cambodia has political sympathies for the opposition," one businessman, who declined to be named, said. "Obviously that couldn't be possible. Could it?"
Luke Hunt can followed on Twitter @lukeanthonyhunt