Is Laos Moving Away From China With Its Leadership Transition?
Recent changes raises questions about the country's regional alignments.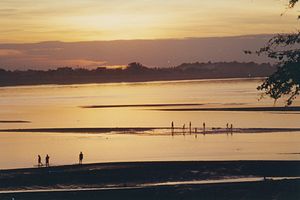 Laos' Communist Party elected Vice President Bounnhang Vorachit to be its next leader last week, after a vote by the newly formed 10th Party Central Committee.
State media announced on Friday that the congress of the Lao People's Revolutionary Party, which is held every five years, had selected a new central committee and politburo to lead the country. The 78-year-old Bounnhang is replacing Choummaly Sayasone, 79, as secretary-general and president; Choummaly is stepping down after almost a decade in power.
Some observers believe that the change in leadership signifies a tilt away from China and closer to longtime ally Vietnam, as Laos takes on the chairmanship of the Association of Southeast Asian Nations (ASEAN) regional bloc. The secretive nature of the Lao People's Revolutionary Party, which has ruled the country since 1975, makes its internal politics difficult to understand, but the changes in the politburo offer some indications of a slight shift in the ruling elite.
The choice of Bounnhang, a senior figure of the regime who was a prominent member of the Pathet Lao armed independence movement and has previously acted as prime minister, is an unsurprising one for the single-party state. However, few expected the departure from the party of Prime Minister Thongsing Thammavong, 71, who had been in the politburo since 1991. Speculation in Laos is rife that his exit from power is linked to the recent arrests for corruption of Central Bank Governor Somphao Sayasith and former Finance Minister Phouphet Khamphounvong.
The 70-year-old Deputy Prime Minister Somsavat Lengsavad was also reported as not having sought re-election to the central committee, where he had been been a politburo member since 2006. Though less highly ranked in the cabinet, he was notable for being the principal pro-Beijing voice within the government.
A fluent Mandarin speaker, Somsavat has shepherded many joint ventures with China and is currently overseeing the controversial Laos-China high-speed rail project, whose ground-breaking ceremony took place in early December 2015.
The 427 km railway would connect the Lao capital to the Chinese border and is expected to cost  $6.04 billion. A Radio Free Asia (RFA) report from January 4 mentions some government officials as criticizing Somsavat for having accepted a deal unfavorable to Laos, noting that it was not the first "high-cost investment where he gave too much away as collateral for project loans with little or no payoffs for ordinary Lao citizens."
The railroad has been mired in controversy ever since it was announced in 2010. The project was alleged to have created tensions between Laos and Vietnam, whose "own relations with China were then at a standstill," explains Ian Baird, a Laos expert and a professor at the University of Wisconsin-Madison.
Bouasone Bouphavanh, the then-prime minister, is believed to have been removed from power and replaced by Thongsing in 2010 due to perceptions that he was favoring Beijing over Hanoi. Soon after, plans were started for a Laos-Vietnam railway, but never formalized.
In recent years, Beijing has vied aggressively for influence in Laos through aid, loans, and infrastructure investment.
"China is using its economic interests to get political power" says Baird. "Politically, though, Laos remains much closer to Vietnam. Most of the country's leaders studied or trained in Vietnam, including Bounnhang. They were already in governmental positions in the 1980s when there were strong enmities between Laos and China, who were then almost at war, with no trade or real relations."
"What the Lao are doing now is trying to balance between the Vietnamese and Chinese. They want political support from Vietnam and financial support from China… The United States is also getting closer to Laos, but has relatively low investments in the country."
"Ultimately", Baird concludes, "I believe that Vietnam has more power than China in Laos."
Such diplomatic balancing was already visible this week. The Associated Press reported on Monday that Thongsing had assured U.S. Secretary of State John Kerry that "Laos would help counter China's assertiveness in the South China Sea."
Xinhua, meanwhile, detailed a meeting on Tuesday between Bounnhang and Song Tao, a special envoy mandated by Xi Jinping, where the former announced "he was ready to join hands with China to further develop the relations between the two parties and two countries." Unmentioned publicly by either government was the death of two Chinese nationals in a suspected bomb attack on Sunday in central Laos, though it remains unknown whether they were individually targeted.
As this year's ASEAN chairman and co-convenor of the upcoming Sunnylands Summit, it is likely that Laos will be trying to strengthen its own position in the regional balance, particularly in light of mounting tensions in the South China Sea.
Fanny Potkin is graduate student and freelance writer who works on China and Southeast Asia. This piece originally appeared at East by Southeast and is republished with kind permission.