Laos Is Not in a Chinese 'Debt Trap' – But It Is in Trouble
Laos is disturbingly reliant on investment from China – and no one knows how much, and under what terms.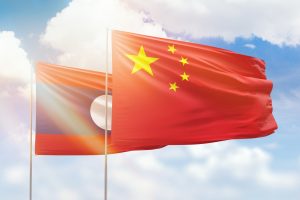 China's Belt and Road Initiative (BRI) turns 10 this year. Much ink has been spilled, digitally and otherwise, about the global infrastructure project. The "debt-trap diplomacy" claims that arose in the mid 2010s, as China ramped up its lending to low and middle-income countries, seems to have mostly dissipated, thanks to repeated debunking by scholars. Those claims have been replaced by more nuanced and valid concerns about the terms of China's loans.
For instance, Laos, the only landlocked country in Southeast Asia, has alarms going off: public and publicly-guaranteed debt was $14.5 billion, 89 percent of GDP by the end of 2021, and is likely over 100 percent of GDP by now. China is Laos' largest creditor, accounting for nearly half of all its external public debt. China has allowed some debt deferment, providing some temporary relief. But with large investments with long time horizons and obscure contracts from Chinese state-owned enterprises in critical infrastructure, Laos has made the decision to tightly tie the future of its economic development to its neighbor to the north.
With a price tag of $6 billion, the China-Laos railway is the most well-known BRI project in Laos. The 1,035 kilometer-long railway connects Kunming in southern China with the capital of Laos, Vientiane, crossing the China-Laos border at one of Laos' Special Economic Zones. To finance the railway, three Chinese state-owned companies and a Lao state-owned enterprise created a limited liability joint venture, the Laos-China Railway Company, Limited (LCRC), in 2016. The three Chinese companies hold 70 percent of the joint venture, with the other 30 percent held by Laos. 
China's Export-Import (Exim) Bank loaned $3.54 billion to the LCRC for construction of the railway. The Lao government, in theory, is liable for roughly a billion dollars (one-third of the loan). However, if the LCRC ends up defaulting on the loan, it owes China's Exim Bank, it is not clear who would assume responsibility for the debt. It's possible that the Lao government could actually be responsible for over $3 billion in "hidden debt." 
This kind of vagueness in the contract is a hallmark of China's BRI loans to developing countries, many of which include conditions preventing public release and scrutiny. 
With more than a year under its Belt (pun intended), the China-Laos railway is delivering little more than promises with a side of freight. The railway was completed and launched for passenger and freight use in December 2021, with the intention to shift Laos from being land-locked to "land linked." Officials from both countries touted the project as a way to jumpstart the country's economic development by linking rural Laos to cities and foreign export markets. 
Yet Lao officials have confirmed that most of the trade that travels the railway is one way – goods from China imported into Laos. The next portion of the network continues south to extend to Bangkok, Thailand, but even then, the round-trip China-Laos-Thailand journey transported Chinese and Thai goods, but no Lao products. "The country just doesn't have enough goods to export yet," a Lao official said. And even if there were goods to export, Laos also does not yet have the operations and logistics capacity to serve the "land-linked" goal of the China-Lao railway well – Lao companies are not yet equipped to ship their products via train rather than truck. 
Being land-linked is only one of Laos' goals. Another is to become the battery of Southeast Asia, capitalizing on its extraordinary amount of untapped energy potential, especially in hydropower, and exporting that energy to regional neighbors. The infrastructure built in the country in the next decade or so to increase energy capacity will determine its future as a battery. Yet China's deep involvement in developing and directing Laos' energy resources creates a one-sided reliance that worries officials. Laos might end up being a battery in an all-too-literal sense – a power source that is owned by, and benefits, someone else. 
The Lao government cannot afford to run its own power grid. In 2021, Électricité du Laos (EDL), the state-owned energy company that controls the power grids, and the China Southern Power Grid Company signed a 25-year concession agreement creating the Électricité du Laos Transmission Company Ltd (EDLT), of which China Southern has a majority share. EDLT will "build, manage, and control" the Laos power grid for 25 years, investing $2 billion in the grid, and take rights to buy and sell power in Laos. It will only operate the high-voltage power network, leaving EDL to handle lower voltage lines. 
But that means China Southern will effectively control the electricity imports and exports of Laos – the crux of the whole Southeast Asia battery ambition. This direct control of critical infrastructure gives China leverage. Though unlikely, Beijing could use the threat of interfering with energy exports as a way to influence Lao policy. In all likelihood, China would never need to do so directly; Laos' keen awareness of its vulnerability will shape policy choices even if Beijing never takes action to weaponize its leverage.
Much of the power being transmitted through those power lines will also come from Chinese-owned infrastructure. Laos is flooded with BRI hydropower infrastructure investments. The Nam Ou River Cascade shows just how massive these investments can be. The seven dams are along the Nam Ou River, a significant tributary of the Mekong River, running through northern Laos. The Nam Ou River Basin is home to over 400,000 people, many of whom are ethnic minorities. The project marked the first time a Chinese company won rights to develop a whole river basin – and develop they did. The Nam Ou cascade is the largest hydropower cascade system in Laos, spanning over 350 kilometers. 
The power grid agreement that created the joint venture EDLT likely followed the precedent the Nam Ou project created: In 2012, Sinohydro and EDL created the joint venture, the Nam Ou River Basin Hydropower Company Limited. AidData, a project tracking Chinese loans, cites competing sources on the shareholder split – some sources say it's 90-10, and some say the company is 100 percent owned by the Chinese state-owned company PowerChina (which merged with Sinohydro). Given the lack of clarity, we – and the people of Laos – do not know for sure if the Lao government has any immediate contractual debt, hidden or otherwise, attached to the project.
In any case, the Nam Ou River Basin Hydropower Company Limited received over a billion dollars in loans from the China Development Bank, China Exim Bank, and China Construction Bank. The dams were built under a 29-year concession period, during which the majority Chinese owned company will sell the energy to EDL, which is now also majority Chinese owned. 
As of 2021, China had financed half of Laos' 60 dams on Mekong River tributaries and two on the Mekong itself. A significant portion of Laos' energy industry – both energy-producing infrastructure and energy-transferring power lines – is now in the hands of Chinese state-owned enterprises for at least the next two decades.
Laos may not be caught in a "debt trap," but it's certainly in trouble. The lack of transparency in the many loans signed with Chinese companies makes it hard to determine exactly how much trouble that is. Through a patchwork combination of internal and external factors, it seems unlikely Laos will default on its external debt. Internally, Laos can still issue (Thai) bonds, has instituted capital controls, and is aiming for revenue through increased trade from the China-Laos railway. Significant tourism and railway revenue has yet to materialize, but officials are likely banking on increases in both as the countries continue to recover from the pandemic. 
Externally, Beijing has been willing to grant some debt deferrals and set up currency swap arrangements, and Laos is engaging other creditors on debt treatment. It's in China's best interest to keep Laos afloat, especially to further silence the debt-trap diplomacy whispers. How exactly that will happen is yet to be seen.