Japan's Foreign Minister Cancels Plans to Visit China
Japanese Foreign Minister Fumio Kishida is calling off his plans to visit China this spring.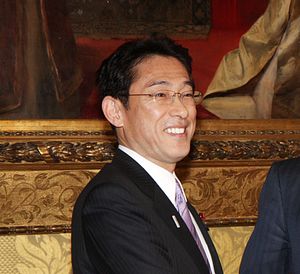 Are Japan and China heading toward a new freeze in high-level diplomatic contacts? Tokyo's strong response to North Korea's recent provocative behavior, including a January nuclear test and a February satellite launch, combined with its increasing interest in the South China Sea have struck a nerve in China, it seems. In a manifestation of rising tensions, Japanese Foreign Minister Fumio Kishida is calling off his plans to visit China this spring, Kyodo News reports, citing Japanese government sources. Kishida's decision came after the Chinese government informed Japan that it was not planning to arrange a visit for Japan's top diplomat.
Kishida had said that he would visit China later this spring. "I would like to move bilateral ties forward through my plan to visit China around spring," Kishida had remarked in a foreign policy speech on January 19. At the time of that speech, Japan had joined the United States and South Korea in issuing a strong unilateral rebuke to North Korea after it tested a nuclear weapon. China expressed its dissatisfaction with the regional response to the nuclear test and, later, to the satellite launch that took place earlier this month. Beijing would prefer to see a return to multilateral diplomacy with North Korea, preferably through a resumption of long-stalled Six-Party Talks.
The South China Sea issue is another pressure point in China-Japan relations, as Tokyo appears poised to increase its involvement in the region. Though the South China Sea is geographically distant from Japan, the Abe administration is taking an active interest in the disputed waters. In October 2015, three days after the United States Navy carried out its first freedom of navigation operation within 12 nautical miles of a disputed feature where China has built an artificial island, the Japanese Maritime Self-Defense Force joined its U.S. counterpart for its first-ever exercise in the South China Sea. In November 2015, consultation between Japan's defense minister and his Vietnamese counterpart suggested that Japanese naval vessels could be making port calls in Vietnam this year. Vietnam is a claimant in the South China Sea. Following these developments, China said that it was on "high alert" for any Japanese "intervention" in the South China Sea issue.
While ties between Japan and China have remained frosty since Shinzo Abe returned the prime minister's office in December 2012, they had recovered to a working level in late-2014. In 2012, under the previous Democratic Party of Japan government led by Yoshihiko Noda, Japan's bilateral relationship with China suffered after Tokyo chose to nationalize the Senkaku/Diaoyu Islands in the East China Sea, which are administered by Japan but claimed by China. From the nationalization of the Senkaku/Diaoyu Islands in 2012 through most of 2014, high-level diplomatic contacts between China and Japan were almost entirely frozen. It was with great effort–notably the "four point consensus" forged between Chinese State Councilor Yang Jiechi and Japanese National Security head Shotaro Yachi–that the bilateral relationship reverted to something close to "normal."
While the recovery wasn't complete and the bilateral remained on thin ice, the cancellation of Kishida's visit does not bode well for the future trajectory of China-Japan ties. 2016 may feature a return to a diplomatic freeze between Tokyo and Beijing.