Pakistan Will Provide 'Special Force' to Defend Chinese Investments
Islamabad will provide 10,000 troops just to ensure the safety of Chinese citizens and companies along the CPEC.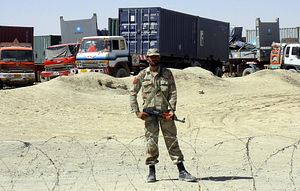 Pakistan plans to create a "special force" of 10,000 troops to protect Chinese workers and industries along the China-Pakistan Economic Corridor (CPEC), a Pakistani minister said on Wednesday. Pakistan's Minister of State for Foreign Affairs Syed Tariq Fatemi made the announcement in Beijing, where he held talks with Chinese officials (including State Councilor Yang Jiechi).
According to People's Daily, Fatemi said that Pakistan has decided to create a special force of "highly trained military people" whose "task will be to provide the necessary safety and security of Chinese working in Pakistan and the Chinese companies and industries set up there." He added that the new force "will be specially equipped and will have special organizations in concerned ministries backing them."
Fatemi said the decision reflects Islamabad's strong commitment to the CPEC project. He also said that the Pakistani government would take additional security steps as needed, based on regular discussions with China.
CPEC is a massive undertaking that will see China pump $46 billion in investments in Pakistan, in sectors from railways to energy to industry (here's a list of the various projects from Pakistan's Ministry of Planning, Development, and Reform). China has pegged the CPEC, which links Pakistan's Gwadar Port with Kashgar in China's Xinjiang province, as a "flagship project" of its larger "Belt and Road" initiative.
Yet from the beginning, the project has been plagued by security concerns. Gwadar Port, for example, is located in Balochistan, home to a long-standing insurgency (and things could get worse thanks to the CPEC, which has many Balochs worried that they will become marginalized in their own land). China has consistently (though quietly) raised its security concerns in discussions about the CPEC with Pakistani leaders, resulting in repeated commitments from Pakistan to ensure the safety of Chinese citizens and investments.
Pakistan is eager to give those assurances, because it is counting on CPEC to solve many of its most pressing economic issues, from jump-starting Pakistani industry to solving the country's energy deficit. Pakistani Prime Minister Nawaz Sharif has even called the CPEC a "game changer" not only for Pakistan, but for the whole region. The downside to all this optimism is that there is no plan B should the project ultimately be derailed by security concerns. Thus Islamabad has taken the extreme step of creating a special force specifically to protect Chinese interests in Pakistan.
The move is paying off in Beijing. On Wednesday, Chinese Foreign Ministry spokesperson Lu Kang was asked whether China was "satisfied" with the security measures Pakistan was taking. In response, he praised Pakistan's government for its "tremendous efforts to protect Chinese institutions and personnel in Pakistan," saying China was "deeply grateful."