US Admiral: 'China Seeks Hegemony in East Asia'
The head of U.S. PACOM wants more attack subs and long-range missiles to counter Chinese expansion in the Asia-Pacific.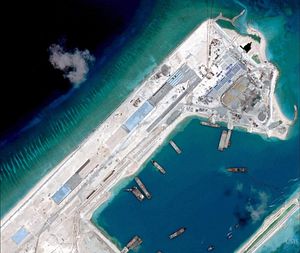 China is seeking hegemony in East Asia, according to the commander of U.S. Pacific Command (PACOM), Admiral Harry Harris, who testified before the Senate Armed Service Committee on February 23.
"I believe China seeks hegemony in East Asia. Simple as that," the admiral said when discussing China's recent military buildup in the South China Sea. "China is clearly militarizing the South China Sea and you'd have to believe in the flat Earth to think otherwise."
"Given that four of the five strategic problem sets identified by Secretary Carter — China, North Korea, Russia and ISIL — are in our region, I'd say that we can't Rebalance fast enough," he said in his opening statement.
Admiral Harris emphasized that the operational environment for U.S. forces in the South China Sea is changing:
I think China's… surface-to-air missiles, on Woody Island; its radars, new radars on Cuarteron Reef over here; the runway, the 10,000-foot runway… on Fiery Cross Reef and other places; these are actions that are changing, in my opinion, the operational landscape in the South China Sea.
He particularly pointed out the threat of new Chinese weapons systems to U.S. carrier strike groups:
 The DF-21 (ballistic missile), which they have, and the DF-26, which they are developing, could pose a threat to our carriers. I think, though, our carriers are resilient and we have the capability to do what has to be done.
In order to counter Chinese military expansion in the region, the admiral called for an increase in long-range surface-to-surface missiles:
I asked for increased surface-to-surface weapons," he said. "When I started flying P-3s back in the late 70s we had the Harpoon missile, and that's the same missile we have today. And we need to have increased lethality and reach and speed that I talked about before, and I'm grateful that the service has responded to that request and in the FY17 budget there are increased funding for programs to increase lethality for surface-to-surface missiles.
Harris also emphasized the need to address the shortage in U.S. attack submarines in the Asia-Pacific region:
The Pacific is the principle space where submarines are the most important warfighting capability we have. As far as Virginia-class submarines, it's the best thing we have. As I mentioned before, we have a shortage in submarines. My submarine requirement is not met in PACOM, and I'm just one of many [combatant commanders] that will tell you that. But that's our principle asymmetric advantage over China and any other adversary, and I think we have to keep after it.
Writing for The Diplomat Greg Austin recently pointed out:
In the background of the current debate is a big lie, an unadulterated fib, perpetrated by the Pentagon. This is that China's actions in the South China Sea threaten commercial shipping. 

There is an obsession with minute adjustment in military deployment by China, and not others. Taken together, this set of analyses out of the United States may be the biggest load of analytical rubbish about Southeast Asia to emerge since the CIA mistook bee feces for a Soviet-supplied biological weapon in 1981 and the years following. (Here is a useful study on the bee feces fiasco.)
Admiral Harris has been the commander of PACOM since May 2015. He has more than 400,000 soldiers, sailors, airmen, marines, coast guardsmen and civilians under his command.