US Wants Expanded Naval Protocol Amid China's South China Sea Assertiveness
Senior naval commander reiterates that CUES needs to cover non-military ships too.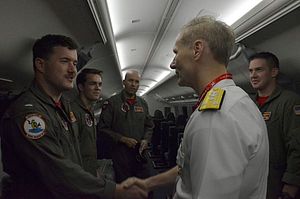 The United States is pursuing the expansion of a key naval protocol amid China's growing assertiveness in the South China Sea, a senior naval commander said this week.
While key navies had negotiated a series of protocols in 2014 at the Western Pacific Naval Symposium called the Code for Unplanned Encounters at Sea (CUES) for the safety of naval vessels meeting at sea, some have questioned CUES' utility since confrontations in the South China Sea have involved non-military vessels.
In particular, China has been employing new, large coast guard ships – painted white rather than the Navy grey – while many smaller ships are being manned by militia organized by Beijing (See: "China is Building a New South China Sea Fleet for its Maritime Militia").
On Monday, in recognition of this problem, Vice Admiral Joseph Aucoin, the commander of the Japan-based U.S. Seventh Fleet, said in Singapore that expanding CUES to cover non-military ships would be a wise move. Speaking to reporters on the sidelines of the Singapore Airshow, the region's largest event of its kind, Aucoin added that he was asking the U.S. Coast Guard to be more involved in helping with these operations.
"We've done a lot with CUES to address combatant-to-combatant [encounters] so there's no miscalculation," Aucoin said according to DefenseNews. "But I have a greater fear that some of these others, Coast Guard — what we refer to as 'white shipping' — cabbage ships [local cargo ships], I'm not sure about their professionalism. I think that having a code of conduct to cover that would be a good thing. That definitely is a concern of mine."
"I'm asking our Coast Guard to become more involved to help us with these types of operations," Aucoin added, "because it's not simply grey hulls anymore."
The idea of expanding CUES is not a new one. As I have written previously, U.S. and Asian defense officials as well as analysts have been calling for this both privately and increasingly publicly as well (See: "Malaysia Wants Expanded Naval Protocol Amid South China Sea Disputes").
But Aucoin's remarks come amid growing fears about Chinese militarization of disputed South China Sea islands. Soon after he had made his comments, reports surfaced that Beijing had deployed two batteries of surface-to-air missiles (SAMs) and a radar system on Woody Island, the largest of the Paracel Islands.
In response, Admiral Harry Harris, the current commander of the U.S. Pacific Fleet (PACOM), said that the deployment was of great concern since it would constitute "a clear indication" of the militarization of the South China Sea, despite Beijing's denials. During his visit to the United States last year, Chinese president Xi Jinping had pledged not to militarize the islands.