US Department of Defense: Guam Laser Incident 'Unprofessional,' Violates 2014 Code
The Pentagon argued that the incident violated the 2014 Code for Unplanned Encounters at Sea.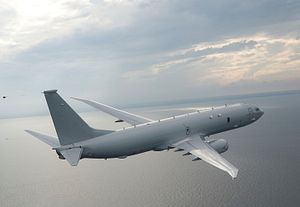 Last week, U.S. Secretary of Defense Mark T. Esper spoke with Chinese Minister of National Defense General Wei Fenghe to discuss a February 17 incident in waters off the U.S. territory of Guam.
According to a U.S. Department of Defense statement, Esper "raised concern over an incident on February 17 in which a U.S. Navy P-8A Poseidon maritime patrol aircraft was lased by PRC navy destroyer 161 while flying in airspace above international waters approximately 380 miles west of Guam."
"The incident underscores the need for the two militaries to enhance bilateral crisis communication mechanisms to ensure incidents like this do not escalate or lead to miscalculation," the statement noted.
According to the United States, the U.S. Navy P-8A Poseidon was operating in international airspace and the incident was both "unsafe" and "unprofessional." The U.S. statement noted that it was Washington's view that the incident marked a violation of the 2014 Code for Unplanned Encounters at Sea (CUES), which both China and the United States agreed to at the 2014 Western Pacific Naval Symposium.
"CUES specifically addresses the use of lasers that could cause harm to personnel or damage to equipment," the Pentagon noted.
The U.S. side also said that the laser incident was "inconsistent with a Memorandum of Understanding (MOU) between U.S. Department of Defense and the Ministry of National Defense of the PRC regarding rules of behavior for safety of air and maritime encounters."
In recent years, the United States has underscored behavior that it viewed as unsafe by the Chinese military. In 2018, a Chinese warship nearly collided with a U.S. Arleigh Burke-class guided missile destroyer, USS Decatur, while it was conducting a freedom of navigation operation in the Spratly Islands.
The U.S. Navy later released video footage of the incident, which showed that the Chinese vessel approaching USS Decatur within tens of feet.
U.S. aerial assets have also been intercepted in what the Pentagon has described as an "unsafe" manner repeatedly over the East and South China Seas. In September 2015, Chinese President Xi Jinping and former U.S. President Barack Obama agreed to a bilateral agreement governing air-to-air encounters between Chinese and American military aircraft after multiple incidents in 2014.
Despite the agreement, the U.S. underscored multiple unsafe maneuvers by Chinese military aircraft between 2015 and 2019.
Last month's laser incident is the first of its kind to take place in international waters and airspace off the U.S. territory of Guam in the Pacific.
In 2018, the Pentagon said that two U.S. airmen experienced "minor" injuries as a result of a lasing incident off Djibouti, where China has its only overseas naval base.