What Did the US-ASEAN Sunnylands Summit Achieve?
A look at what was accomplished at a historic meeting this week.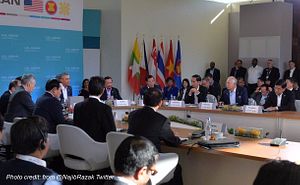 This week, U.S. president Barack Obama hosted Southeast Asian leaders as well as the ASEAN Secretary-General for a two-day special summit at the historic Sunnylands Center in Rancho Mirage, California. What did the summit achieve?
As I noted in a piece ahead of the Sunnylands summit, the fact that such a meeting was held is itself a notable achievement for the current and future place of Southeast Asia and ASEAN in U.S. Asia policy which has traditionally been dominated by Northeast Asian concerns (See: "Why the US-ASEAN Sunnylands Summit Matters"). The convening of the first-ever standalone meeting with Southeast Asian leaders in the United States is both a powerful symbol of this administration's commitment to Southeast Asia and a clear signal to its successor about the importance of ASEAN.
That said, the two sides had also looked to advance the new U.S.-ASEAN strategic partnership that was finalized last November (See: "US, ASEAN to Ink New Strategic Partnership"). Administration officials had said even before the summit that the summit would be less formal relative to traditional U.S.-ASEAN meetings with tightly negotiated deliverables, with the main outcome document being a set of agreed principles (See: "US-ASEAN Sunnylands Summit: What to Expect").
Sure enough, the joint statement of the U.S.-ASEAN summit was in the form of a Sunnylands Declaration which reaffirmed the key principles to guide cooperation going forward. The 17-paragraph document listed out these principles, from respect for general norms such as the freedom of navigation and sustainable and inclusive economic development to a shared resolve to address specific issues like terrorism, trafficking in persons and climate change.
Upon the document's release, some were quick to criticize it for its vagueness. But administration officials had already said before the summit that they had never intended for the outcome document to be a more specific to-do list; that was already accomplished last November in the Plan of Action to Implement the U.S.-ASEAN Strategic Partnership, a 14-page document that lays out in detail how to advance ties out to 2020.
The overall point of this outcome document, those close to the summit's preparations told The Diplomat, was to emphasize the principles undergirding the U.S. and ASEAN's joint commitment to a rules-based order in the Asia-Pacific which is central to preserving regional peace, prosperity and progress. Whether it is preserving principles governing how vessels can navigate at sea in the security sphere; pursuing policies that lead to openness and competitiveness in the economic sphere; or promoting the rule of law, good governance, accountable institutions and universal human rights, these are all tied back to upholding the rules-based order.
That said, there were also some tangible achievements apart from that joint statement. Much of this was on the economic side, reflecting Washington's desire to build out its approach to the region in this sphere. As I have noted previously, the Obama administration has struggled to find new and specific region-wide initiatives that fit the diversity of Southeast Asian economies. In that vein, the unveiling of U.S.-ASEAN Connect, a new U.S. government initiative which aims to utilize a network of three hubs across Southeast Asia– in Singapore, Jakarta, and Bangkok –to better coordinate U.S. economic engagement in the region and connect entrepreneurs, investors, and businesses – is particularly notable.
As I noted in a separate piece on the initiative, while the idea is not new and much of the initiative focuses on coordinating and connecting existing U.S. programs and structures, there are some notable developments including a new series of U.S.-ASEAN trade workshops and other efforts aimed to help the six Southeast Asian states currently not part of the Trans-Pacific Partnership (TPP) understand the trade pact itself as well as the reforms needed to join it in the future (See: "Obama Unveils New ASEAN Economic Initiative at Sunnylands Summit"). Currently, only four ASEAN members already part of the pact (Brunei, Malaysia, Singapore and Vietnam), three more looking to join it (Indonesia, Philippines, Thailand), and three others as of now unable to join as they are not part of the Asia-Pacific Economic Cooperation (APEC) forum (Laos, Myanmar, Cambodia).
Following the discussions at the summit, U.S. Trade Representative Michael Froman and economic ministers and senior officials from the ASEAN countries also met and discussed some new initiatives as well. They also kicked off an ASEAN Roadshow which touched on opportunities for U.S. and ASEAN businesses created by the recent launch of the ASEAN Economic Community (See: "Will ASEAN Forge An Economic Community By 2015? Wrong Question").
On the security side, a wide range of issues were discussed including combating the Islamic State (IS) and contending with China's growing assertiveness in the South China Sea. Though critics were quick to note the lack of specificity in the joint statement, particularly on the South China Sea question, parsing a declaration of principles for such details was always going to be a fool's errand. Besides, close observers know that much of U.S. cooperation with individual Southeast Asian states is already occurring behind the scenes, whether in the form of greater intelligence cooperation with individual Southeast Asian states in the fight against IS or boosting the maritime domain awareness of claimants and interested parties in the South China Sea disputes (See, for instance: "Exclusive: US, Malaysia and the War Against the Islamic State").
Nonetheless, there were a few signs at the summit which emphasized the importance of these issues to both the United States and ASEAN. For instance, Obama revealed at the press conference that he had offered assistance to help ASEAN countries better leverage Interpol data to prevent the flow of foreign terrorist fighters. And while Chinese assertiveness in the South China Sea was not mentioned specifically in the joint statement – not unlike most ASEAN statements – for those keeping score, three of the seventeen paragraphs in the U.S.-ASEAN joint statement dealt with maritime security – which is pretty significant. That should indicate how important the issue is to both sides, despite attempts by some to suggest that this is not the case (See: "Does ASEAN Have a South China Sea Position?"). Apart from the joint statement, Obama also said that leaders had discussed the need for "tangible steps" to lower tensions.
Another concern among some ahead of the summit was how Washington would deal with democracy and human rights. From the outset, the Obama administration's approach was never going to satisfy rights advocates: while it has always seen these issues as being ones to deal with  largely bilaterally – and often privately – with individual leaders, advocates contend that they should be addressed even at multilateral engagements, with some even calling in these pages for the establishment of formalized U.S.-ASEAN Human Rights Dialogue.
That said, the administration did attempt to address these concerns early on, with National Security Adviser Susan Rice meeting with civil society leaders even before the summit. In his remarks after the summit on Tuesday, Obama also said that he had made clear the U.S. commitment to rule of law, good governance, accountable institutions and universal human rights, including standing with citizens and civil society to defend freedom of speech, assembly and the press. He made specific references to encouraging a return of civilian rule in Thailand and sustaining engagement with Myanmar as it moves forward with its political transition following a landslide victory by the opposition National League for Democracy (NLD) led by democracy icon Aung San Suu Kyi last November (See: "Myanmar's Opposition Clinches Majority in Election Win"). Still, that did not deter the hundreds of protesters who demonstrated against the administration's decision to meet with the leaders of several non-democratic Southeast Asian countries.