Why Is Malaysia in Saudi-Led War Games in the Middle East?
The Southeast Asian state's participation in a major military exercise this year has raised questions.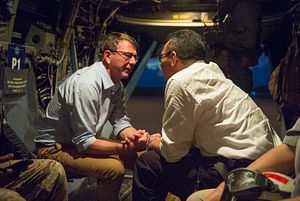 Malaysia has joined a major military exercise led by Saudi Arabia for the first time, raising questions about the extent of the Southeast Asian state's involvement in the Middle East.
This week, Saudi Press Agency (SPA) said that Malaysia was among 20 Arab and Islamic countries participating in the so-called "Thunder of the North" exercise at King Khalid Military City in Hafar Al-Batin in the country's north, which is taking place from February 16 up till March 4. While the exercise has been going on for 15 years, this is the first time Malaysia has taken part in it.
Malaysia's involvement is just the latest in a series of steps it has taken that suggests a closer alignment with the kingdom amid growing turmoil in the Middle East and the rising threat of the Islamic State. As I noted in a previous piece, Malaysia had sent armed personnel and equipment to Riyadh last year to evacuate people trapped in Yemen – both its own citizens as well as those of neighboring states – with the help of Arab states and aid agencies (See: "Did Malaysia Just Join the Saudi-Led Coalition in Yemen?"). Malaysia also joined a Saudi-led, 34-member Islamic alliance against the Islamic State in December last year, though defense officials subsequently said that its participation was limited to intelligence sharing.
Each of these moves has raised concerns that Malaysia may be getting directly involved in military operations by Saudi-led coalition against Iran-backed Houthi rebels in Yemen, requiring Malaysian officials to respond that this is in fact not the case. This instance was no different. On February 16, Malaysian defense minister Hishammuddin Hussein clarified in a statement seen by The Diplomat that the exercise had "no link whatsoever with the military campaign in Yemen," noting that the exercise had been going on for years and that the war games were being held in the north of Saudi Arabia, while Yemen was located in the country's south.
"While I have been consistent in stating that Malaysia is supportive of efforts to curb militancy, our Armed Forces have never taken part in any military operation in Yemen," Hishammuddin said according to Malaysian media outlets.
Hishammuddin went on to add that Malaysia was participating in the exercise as it would provide its armed forces with an opportunity to understand humanitarian assistance and disaster relief procedures and methods to extract Malaysians from conflict zones. That is consistent with both what Malaysian defense officials have said before and what has been publicly disclosed thus far about the Southeast Asian state's activities in the Middle East.
While Malaysian officials have been focused on downplaying the country's involvement, Saudi Arabia has unsurprisingly been trying to play the exercises up as a demonstration of its military might. SPA dubbed this iteration of the exercise the "most important and largest in the region's history" in terms of both the number of nations participating as well as the weaponry being used.
Apart from Saudi Arabia and Malaysia, the other participating countries in the exercise are UAE, Bahrain, Kuwait, Qatar, Oman, Jordan, Egypt, Senegal, Sudan, the Maldives, Morocco, Pakistan, Chad, Tunisia, Comoro Islands, Djibouti, Mauritania and Mauritius.
Saudi sources also indicated that the members of the new "anti-terrorism" coalition will gather in Saudi Arabia next month for the first meeting.