Will 3D Printing Speedup Production of Russia's 'Deadliest Tank'?
Russia's defense industry has used 3D printing to produce prototype parts for the T-14 Armata tank, a manager reveals.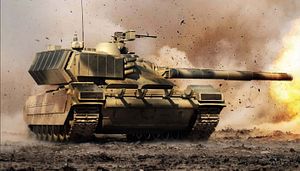 Throughout 2015, Russia has used industrial 3D printers to produce prototype parts and master models for its third-generation T-14 main battle tank (MBT), an armored vehicle based on the 'Armata' universal chassis system, the head of the Rapid Prototyping Lab at Electromashina, a subdivision of Uralvagonzavod (UVZ), the largest main battle tank manufacturer in the world, revealed this week.
"3D printing has been implemented to speed up trial production," Anton Ulrich, the manager of Electromashina, explained. "When a designer develops new products, he uses CAD software to produce a 3D model. So, using a 3D printer, we can quickly turn those 3D models into prototype parts. Now there is no need to order a sample component, and then, realizing that it doesn't fit, have to order a re-run and waste metal. Furthermore, it is possible to produce not just small elements of a part, but the whole assembly, evaluating its mechanical characteristics before production."
While this method has so far only been used for the T-14 (and possibly T-15) prototype production, there is a possibility that 3D printing will be able to manufacture machine-ready components for the T-14 during serial production in the future. One step in that direction will be the planned production of 3D printed titanium parts, several meters in lengths, for use in the T-14 and other armored  vehicles based on the Armata universal chassis system, according to Ulrich (See: "Revealed: Russia's Deadly New Tank Force").
However, Ulrich cautioned that it will still be some time before 3D printed components for use in the serial production of tanks will become a reality. "3D printed components can go straight to consumers in certain industries," said Ulrich. "But in the defense industry, standards are much higher."
As I reported previously (See: "Putin's New 'Wunderwaffe:' The World's Deadliest Tank?"), by 2020, UVZ plans to produce 2,300 T-14 Armata models. The tank is slated to go into mass production in 2017 or 2018, with the Russian Ground Forces receiving around 500 T-14 MBTs per year, according to plans of Russia's Ministry of Defense. The Russian military wants to replace 70 percent of its armor with new tracked vehicles based on the Armata universal chassis system, mustering out older T-72 and T-90 MBT models.
However, the steep price of the Armata–each tank purportedly costs about $ 8 million—has led the Russian military and the Russian public question the rationale behind mass producing such an overpriced vehicle. During the rehearsal for the 2015 Victory Day parade on Red Square in Moscow, bystanders supposedly made the joke: "The Armata truly has unprecedented destructive power; a battalion can destroy the entire Russian budget!"
However, according to media reports the price for the T-14 will eventually come down to around 250 million rubles ($3.1 million) per unit once serial production begins. In comparison, Germany's Leopard 2a6 MBT costs $6.7 million, the U.S.-made Abrams M1 MBT around $6 million.
According to analysis compiled by IHS Jane's and cited by TASS , Russia's share on the global armor market will total about $37.6 billion in the 2015-2024 time period, with most profits coming from the production of "T-72B3/T-90 main battle tanks, BMP-3 infantry fighting vehicles and armored personnel carriers based on the BTR-80 APC."