After Brutal Dzud Winter, Mongolia Seeks Foreign Aid
For the first time since 2010, Mongolia has suffered at the hands of another brutal dzud winter.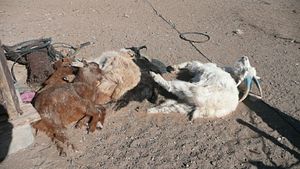 Across the Mongolian plains, livestock are succumbing to a brutal winter, bringing economic struggle and ruin to the country's agrarian base, which constitutes one-fifth of its gross domestic product.
The phenomenon sadly is not unusual. In Mongolian, these sorts of unusually harsh winters are known as dzud. A particularly bad dzud, such as this year's, will wipe out large numbers of livestock–often in the millions–due to starvation, and has prompted the Mongolian government to seek assistance from abroad. Last week, for the first time since 2010, the Mongolian government formally filed a "dzud appeal," requesting foreign assistance.
According to the Associated Press, this dzud is worse than the 2010's, even though under 50,000 livestock have died. In the 2009-2010 winter, the deaths of 9.7 million livestock in Mongolia were attributed to the dzud. The dzud has effects that are felt all over the country. The World Bank, in a 2010 report on that year's dzud appeal, noted that "Fifteen of Mongolia's 21 provinces, home to 769,106 people (28 percent of the country's population), have been declared disaster zones, and another four are seriously affected." This year's dzud was worse than its 2010 predecessor, but preparedness may have staved off calamitous economic damage.
The dzud did not catch the country by surprise. Ahead of the brutal winter, Mongolian farmers and herders prepared for the winter by building shelters for livestock. Reuters noted in September 2015 that the World Bank had predicted a dzud for the 2015-2016 winter season. The Mongolian government preemptively moved to cut wheat and meat exports for the winter months to shore up domestic supplies, to ensure feed for livestock. In the early 2000s, Mongolia was struck by three consecutive dzud seasons, which killed over 11 million animals in cumulative.
So far, dzud-related aid is set to pour into Mongolia from a variety of sources. The Asian Development Bank granted $3 million in financial assistance to help the worst-affected districts shore up livestock shelters during the winter. Purevjav Jambalragchaa, a coordinator at the Mongolian Red Cross, told the Associated Press that the Red Cross societies of Japan, Britain, and Finland will contribute aid as well.
The economic effects of dzud will intensify the Mongolian economy's economic woes. Its mining sector, which comprises over 15 percent of its GDP, has also been under stress due to falling commodity prices and the economic slowdown for both its massive neighbors, China and Russia. For Mongolia, the increasing frequency and harshness of dzud is seen as a consequence of global climate change. In 2010, Mongolia told the United Nations that climate change was set to have "a direct and dramatic effect on almost all sectors of the national economy and all spheres of social life."