Asia's Boards: Where Are The Women?
Despite progress, Asian women are yet to crack the corporate "rice-paper ceiling." Are arbitrary quotas the answer?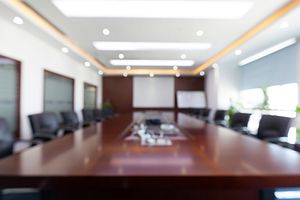 Asia's major economies marked International Women's Day 2016 with relatively little fanfare, despite the demographic imperative that confronts the aging populations of China, Japan and South Korea.
According to the Asian Development Bank (ADB), Asian corporate boardrooms have low gender diversity despite moves such as Japan's "Womenomics," although the bank blames societal issues rather than deliberate hiring decisions.
In its report, "Women's Leadership and Corporate Performance," the ADB noted that Western countries lead the field on female representation, particularly Scandinavian countries. In 2014, Norway's proportion of female directors stood at 40.5 percent while Finland and Sweden were both around 27 percent, with Britain's ratio standing at 21 percent and the United States with 17 percent.
In contrast, South Korea's ratio was a lowly 1.9 percent, just below Japan's 2 percent, with Singapore's proportion 8.3 percent, China 8.5 percent and Malaysia 8.6 percent. The region's best performers were Australia with 18 percent, New Zealand with almost 15 percent and Indonesia with 11.6 percent, the study showed.
The high European ratios may reflect mandatory quotas, with Britain proposing a minimum of 25 percent female directors, Germany 30 percent and Norway 40 percent. In Asia, only India and Malaysia impose mandatory quotas for gender diversity, although the report notes the mixed progress on implementation.
In India, for example, while the law required all listed firms to have at least one female on the board by March 2015, "many firms complied with the law by appointing the wives of the controlling owners," and one-third ignored the requirement altogether, the report said.
On April 1, a new law in Japan will require companies with more than 300 employees to publish data on the number and positions of their female staff, as part of Prime Minister Shinzo Abe's push for increased female representation.
In Australia, Australian Institute of Company Directors head Elizabeth Proust has proposed mandatory quotas for ASX 200 companies by 2018, should they have failed to reach a target for 30 percent female representation. As of last year, only 38 of the top 200 listed companies had met the voluntary target.
"With the exception of engineering, women have been coming out of universities in roughly equal numbers as men in most disciplines for more than 25 years now, so the argument there are not enough qualified women just doesn't wash," Proust told the Sydney Morning Herald.
The benefits of female directors have been highlighted by recent research, including a 2011 report by Catalyst which found that US Fortune 500 companies with at least three female directors earned an average return on equity (ROE) 4.8 percentage points higher than those without any women on board.
Similarly, a Credit Suisse report found that between 2005 and 2011, companies with at least some female directors outperformed those with none in share price performance, with a four percentage point higher ROE.
Yet the ADB report argues against mandatory quotas in Asia, saying it "may produce little in terms of financial performance."
According to the bank, the relatively low gender diversity found in Asian boards "appears to be related to a limited supply of top-level candidates due to a lack of educational opportunities, lower wages, infant survival rates and other broad societal disadvantages suffered by women in the region."
"Addressing government policies that put women at a disadvantage in education, work and other aspects of society would be more effective at diversifying Asian boardrooms than mandating quotas," it argues.
Nevertheless, Asia's pipeline of female talent has improved, as shown by a ratio as high as 40 percent of female senior management in Indonesia and the Philippines, compared to around 20 percent in the West.
At the top though, only Australia and New Zealand had at least 10 percent of female directors holding senior leadership positions such as chief executive or chairperson. In Japan, there were no women in either position among the nation's top 100 companies, and none of the top companies in India and South Korea had female chairpersons, the ADB report said.
The report suggests China "potentially loses economic value by the largest magnitude because of the lack of gender diversity," although it did boast the region's highest percentage of female CEOs, at 5.6 percent.
The cost to Asia for failing to rectify the gender gap in the workforce could be as high as $47 billion a year, according to the World Economic Forum. For aging economies such as Japan, the payoff could be particularly high, with Goldman Sachs research estimating a 13 percent boost to gross domestic product from increasing female employment.
According to Bloomberg, government pressure is making a difference in Japan, with the number of companies with female directors rising by 70 percent in the last fiscal year, to 392 among some 1,933 Topix index members.
However, changing attitudes may take more than government policies or quotas. According to Tokyo-based Elizabeth Masamune, achieving Abe's promised society "where women shine" will require a major shift in traditional roles.
"In fact, when you get down to it, Womenomics simply asks Japanese women to do more and more. In addition to joining the ranks of corporate warriors once reserved only for men (and playing by their rules of course), women are urged to save the national economy by having more babies to boot," she says in ANZ's Blue Notes.
"'Yes, we can,' has somehow turned into 'Yes, you can,' but women are not really buying the message."
That will require men to support women's ambitions "without fear of failure" – and perhaps a change in a corporate culture that values long hours in the office to get ahead rather than time with family.
In a 2014 report, accounting group EY argued that closing the gender gap on boards required a mutually reinforcing combination of "focused public sector attention, committed private sector leadership and corporate transparency to meet growing public demand for change."
"What success looks like in any particular country will depend on political realities and cultural norms, but it's clear that the attention of public officials as well as both male and female CEOs of publicly held companies makes a difference. And when that is combined with corporate transparency about gender diversity, investors can help by supporting progress and holding companies accountable," EY said.
Amid a sluggish global economy, aging societies and growing competitive pressures, the real question for Asia's boards might be whether they can still afford not to appoint female directors, instead of where to find them.