Japan and Norway: Elevated Economic, Geopolitical and Gender Equality Cooperation on the Horizon
Bilateral ties between Tokyo and Oslo are set to converge, with multiple areas for cooperation.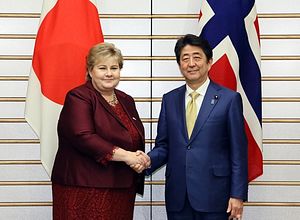 Earlier this week, as Japan and Norway faced off on the curling court in Pyeongchang, another bilateral tête-á-tête was taking place in Tokyo.
On her first official visit to Japan since becoming the prime minister of Norway in 2013, Erna Solberg sat down with her Japanese counterpart, Shinzo Abe, to discuss their bilateral cooperation spanning the geographic distance from the North Pole to North Korea and covering topics ranging from an economic partnership agreement to nuclear nonproliferation to salmon sales to order at sea.
Often discussed in an analogous fashion, the countries enjoy geographic and economic attributes that make a partnership natural: they identify as maritime powers, have benefited from close research cooperation on polar and space topics, flank their neighbor Russia to the east and west, and are among the top fish consumers and producers in the world.
Norway's last official visit to Japan took place in 2012 when Prime Minister Abe was about to return to power and then-Prime Minister Stoltenberg was approaching his last year of leadership before assuming the role of Secretary General of NATO. Fast forward five years and the two countries continue on track to further strengthen bilateral cooperation. Here are three issues that are high on the collaborative agenda today:
It's the Economy, Stupid: Free Trade Ahead?
Japan and Norway are not each other's top trade partners, but they do play a significant role in select sectors. Japan is an avid consumer of Norwegian salmon and fish products and the two countries share close collaboration on offshore salmon farming. Norway, on the other hand, is a small market for Japanese multinational firms, but its high purchasing power per capita makes it an interesting arena for selling Japanese car and electronics products. Norway's green subsidies make it one of the top markets for electronic cars in Europe, benefiting Japanese car manufacturers like Nissan.
On the heels of the EU's successful Economic Partnership Agreement with Japan to be implemented in 2019, Norway, a non-EU country is especially keen to reach an agreement with Japan so it too can benefit from tariff eliminations with one of the largest economies in the world. Prospects for promoting the Norwegian salmon market in face of competition from Japan's existing and future FTA partners Chile (who is a TPP-11 member) and the EU.
It's Geopolitics, Stupid: From the North Pole to North Korea
Norway and Japan find themselves in vastly different security environments when it comes to the geopolitical features of their respective neighborhoods. As maritime states, however, both countries share a deep interest in maintaining an international order based on the rule of law and have chimed a similar tune on this in their bilateral and multilateral dialogue.
It is no secret that the Arctic ranks at the top of Norway's foreign policy priorities. While Japan's Arctic ties are not as formalized, there has been a growing interest in all things Arctic, and especially since 2012, manifested by the appointment of an Arctic Ambassador, observer status in the Arctic Council in 2013 and the launching of an Arctic Policy in 2016. Prime Minister Abe has been a strong promoter of Arctic diplomacy and with China's burgeoning Arctic activities and recent release of its own Arctic policy this will likely to continue in the coming years. Furthermore, for both countries, the Arctic is a platform for cooperative engagement with Russia.
However, in this week's meetings it was not only the North Pole that was on the agenda but also the issue of North Korea. Here, Abe and Solberg agreed to a coherent message of putting maximum pressure on the state in an attempt to bring about change. Neighboring North Korea has been a long-standing security challenge for the Japanese.  Despite its distance from the region, Norway is also a strong supporter of peaceful developments in the East Asia.
It's Gender Equality, Stupid:  Bringing Women into the Workforce
When it comes to gender equality and women's economic participation, the two countries have vastly different stories to tell. The World Economic Forum rankings place Japan 114th in the world and Norway 2nd. Norway also ranks among the highest in the world when it comes to the inclusion of women in politics, while Japan has struggled to incorporate women at all levels of the governments.
While Japan's profile for elevating women in the workforce has gained more traction over the years, with government megaphones blasting womenomics and the making of "a society where women shine," progress has been slow and critics point to approaches that are mistargeted to the elite echelon of society. Prime Minister Solberg has been a proactive commentator when it comes to creating the conditions and non-discriminatory environments where women (and economies) thrive.
During her Tokyo visit, Solberg engaged in a candid discussion with students about women's participation in the labor force, urging countries to pursue agendas that promote equal footing between women and men while still reflecting on Norway's successes and persistent challenges such as discrimination. In response to a Japanese student's question about how it was "possible" to be a female prime minister, Solberg responded that Japan faces a challenge when it comes to incorporating women due to its traditional society structure.
All in all, Japan and Norway have much to learn from each other in terms of scientific research and innovation, economic and financial development and support for global governance and gender equality initiatives. In the coming years, opportunities for collaboration between the two countries will continue to extend to diverse environments: the high seas, Arctic archipelagoes, fish markets, corporate boardrooms, and, not least, Olympic curling courts.
Wrenn Yennie Lindgren is a Research Fellow at the Norwegian Institute of International Affairs, an Associate Fellow at the Swedish Institute of International Affairs and 2018 Japan Foundation Fellow. Petter Y. Lindgren is a Senior Economist and Political Analyst at Oslo Group of East Asian Research (OGEAR).