China's Defense Budget to Grow 7-8 Percent
Plus, Xi Jinping's inner circle, Nepal-China ties, and Chinese censors at work. Your Friday China links.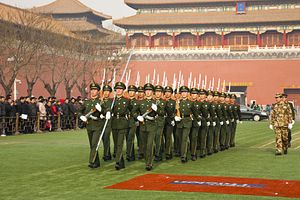 Time for your weekly China links…
China's "two sessions" – the annual meetings of the National People's Congress and the Chinese People's Political Consultative Conference – are in full swing. The main event, the NPC meeting, begins tomorrow, and will see China's 13th Five Year Plan officially approved. But one big announcement has already been made: NPC spokesperson Fu Ying told reporters that China's defense budget will increase by 7-8 percent this year – marking the slowest growth rate since 2010. Last year, for example, military spending increased by 10.1 percent. The decreased growth rate is apparently due to China's overall economic slowdown, but Fu emphasized that the budget increase is still "in line with China's national defense need."
On the subject of domestic politics, South China Morning Post has a look at Xi Jinping's inner circle. "Just three years into his presidency, Xi has installed former associates from Zhejiang, Fujian, Shanghai and Tsinghua University to key positions in economic policy, propaganda, personnel and security," SCMP's Cary Huang and Jun Mai write. You may be unfamiliar with the names profiled in the piece, but these are the men (and yes, they are all men) who have the ear of China's top leader.
Elsewhere, Bloomberg reports on China's effort to predict terrorist attacks before they occur – by monitoring "data on jobs, hobbies, consumption habits, and other behavior of ordinary citizens." According to an engineer at a company tasked with the project, the new software "would be able to draw portraits of suspects by cross-referencing information from bank accounts, jobs, hobbies, consumption patterns, and footage from surveillance cameras."
In foreign policy news, Nepal's prime minister, KP Sharma Oli, is set to visit China this month. During his visit, he's expected to sign several "major deals," according to the Himalayan Times. Most notably, Oli will ink an agreement on importing fuel from China – something Nepal had never done prior to a massive fuel shortage caused by disrupted trade with India in late 2015. Nepal accused India of enacting an unofficial blockade, designed to pressure Nepal to reform its new constitution, something New Delhi denied. But with Nepal-India ties still not back on track after Oli's visit to New Delhi (as my colleague Ankit Panda described earlier this week), it's no surprise that Kathmandu is looking to deepen relations with its other neighbor.   
In domestic news, China's television regulators have banned depictions of same-sex romance, teenage romance, and one-night stands in an effort "to sanitize programming," according to CRI. The regulations come after Chinese censors banned "Addiction," a popular online drama about same-sex romance among teenage boy and "Go Princess Go," another online series, this one a gender-bending story about a modern Chinese man who finds himself in the body of a princess in ancient China.
Speaking of censorship, the Committee to Protect Journalists has an inside look at how Sina Weibo, one of China's major social media platforms, handles the task. Based on documents containing the company's censorship orders, provided by a former Weibo employee, CPJ shows how Weibo attempts to both appease the Chinese government and keep users interested in the social media network.