China's Plan for Lawfare in the Maritime Domain
"Lawfare" at work in the maritime domain.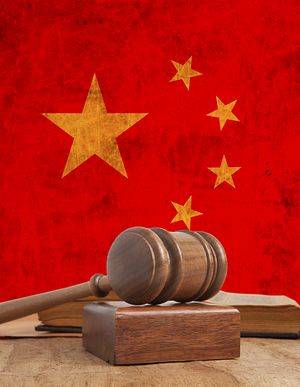 China will set up an "international maritime judicial center" to protect the country's maritime rights and sovereignty claims, China's top judge told the National People's Congress on Sunday. Zhou Qiang, the chief justice of the Supreme People's Court, made the comment while delivering the annual SPC work report. China's Foreign Ministry clarified that the center will be established this year.
Zhou provided no further details on the proposed center. However, he noted the robust nature of China's existing maritime courts. According to Zhou, China has the largest number of maritime courts in the world, and heard more maritime cases than any other country last year – around 16,000. Zhou held those figures up as evidence of the courts helping to implement the country's "important strategies," including its push to become a "maritime power."
Zhou was quite clear about the motivation behind such a move. In his report, he said that China's courts would work to fulfill the national strategy of turning China into a "maritime power." As part of those efforts, China's courts will "serve and safeguard the implementation of national strategies such as the 'Belt and Road' and [making China] a maritime power and resolutely defend national sovereignty, maritime rights, and other core interests." Right after those promises, Zhou announced that China will "strengthen the work of maritime cases and construct an international maritime judicial center."
As an example of how courts might be used to bolster territorial claims, Zhou pointed to a 2014 case heard in a Chinese maritime court. The case dealt with a collision between a Chinese fishing vessel and a cargo ship from Panama near the Senkaku/Diaoyu Islands, which are administered by Japan but also claimed by China. Zhou argued that the 2014 case, which was heard by the Xiamen maritime court in Fujian Province, was evidence of China's jurisdiction over the disputed region. Likewise, any cases involving the East or South China Seas that are heard by China's upcoming international maritime center will be used to prove Chinese jurisdiction and control over those regions.
This isn't the first time Zhou has expounded on the role of legal work in solidifying China's maritime claims. Last December, Zhou attended a meeting on China's maritime courts in Qingdao, a major port city in Shandong province. There, Zhou emphasized that China must "greatly strengthen the work of maritime cases in order to provide strong legal assistance and safeguards for building a maritime power and implementing the 'Belt and Road.'" He called China's maritime courts an "important part" of maritime strategy and control; by exerting judicial control over all development and resource extraction activities within Chinese-administered waters, Zhou said, the courts can defend China's "blue national soil."
In that same speech, Zhou raised the idea of an "international maritime judicial center." In particular, Zhou envisions the maritime judicial center as eventually having "relatively high international influence." To help achieve that end, Zhou recommended "widely publicizing" influential judgments and important judicial explanations to "endlessly broaden international influence."
China has made no secret of its ambition to use legal means – "lawfare" – to achieve national security goals (including in the South China Sea). China has, for instance, condemned the Philippines' resort to international arbitration for the South China Sea disputes largely on legal grounds. Though Beijing has repeatedly refused to participate in the case, its legal scholars nonetheless crafted a document outlining China's argument that "the Arbitral Tribunal manifestly has no jurisdiction" over the Philippine case (arguments that were considered by the tribunal, though it largely decided in Manila's favor on the jurisdiction question).
The Philippines' arbitration case provides the necessary context for China's interest in setting up its own international maritime judicial center. Recently, China has been experimenting with creating its own alternatives to existing international structures – particularly when it feels the deck is stacked against it in the current system. From the Asian Infrastructure Investment Bank to the Conference on Interaction and Confidence Building Measures in Asia (CICA), Beijing sees great value in promoting international or multilateral lateral fora where it can either control the agenda outright or have the largest influence. Where China does not see the international community moving to make space for its rise and respect its interests, Beijing has proven perfectly willing to create its own institutions. Its ultimate goal, as in the case of the international maritime judicial center, is to have these alternative or parallel structures gain international influence, thus altering global systems in China's favor.
The creation of an international maritime judicial center with Chinese characteristics thus fits into a larger pattern. China will likely say all the rights things – that the center is not meant to usurp other international maritime courts; that it is open to participation from all comers – but in practice, the center will act to establish a parallel judicial center where China's interpretation of the law rules. Meanwhile, it could serve double-duty by hearing cases related to the South and East China Seas, thus providing evidence of Chinese jurisdiction over disputed areas.