China's Startups Weather the Economic Slowdown
Despite a slumping currency and slowing growth, China's startup scene remains full of optimism.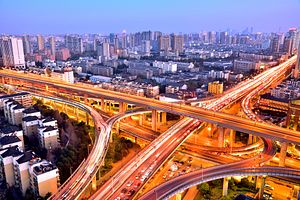 Currency depreciation is not always bad for a country's economy, but after a series of stock market crashes this past summer, the Chinese economy seems to be going down on what many experts perceive to be a spiral of decline. Many wealthy Chinese people have been going out of their way to move their financial assets abroad, aiming to get around government restrictions on the maximum amount of money that an individual can move out of the country, which is officially limited to 50,000 yuan ($7,617) per year.
Even though the economic growth in China has decelerated to the slowest rates in decades, businesses and in particular startup companies feel optimistic about what the Chinese economy has in store for them.
"I think 2016 will be a year of transformation for startups," said Xiaodu Lou, founder and CEO of a startup called Bongmi in Zhejiang Province, a coastal province in eastern China. He added that under the economic circumstances, "valuable startups will survive and manifest their self-worth while the weak ones will lose their market."
Based in Zhejiang, the same province as the internet-giant company Alibaba, Lou's startup – like many other startups located at China's innovation frontline – has received strong support from the provincial government. Lou, who recently met with Zhejiang's party secretary, explained that local government encourages innovation and entrepreneurship by giving tax incentives, boosting funds (such as subsidies, investment, and straight cash), and helping with talent scouts for small and mid-sized startups.
Lou's startup specializes in developing mobile-technology applications that help women prepare for or avoid pregnancies by logging their menstrual cycles and basal body temperatures. A relatively uncharted territory in the Chinese health tech industry, Lou has been able to raise enough funds, attract venture capital investments, and even open a subsidiary in the United States.
So far, the devaluation of the Chinese currency has cost Lou more than 100,000 yuan in exchange-rate losses, a large sum to lose for a small tech startup that's barely a year old. Yet he remains positive. Referring to the company's recent strategy adjustment, he said: "We hope that our U.S. team can get organized more quickly so that we have more opportunities in the American market. I think if we can make more money in the United States, we can reap more profits after the currency exchange."
In fact, Lou's optimism for his startup company despite the devaluation of the Chinese currency and the economic slowdown echoes that of a group of China experts who believe the economy is merely making a transition from one that has been based on infrastructure and manufacturing to one that is based on consumer spending. Andrew Leung, a consultant and China strategist based in Hong Kong, thinks of the RMB depreciation as an innovative disruption needed to maintain stability and smooth out the transition: "A lot of factories are closing and moving to Southeast Asia or inland China. In their place startups and Internet connected tech business are springing up."
Leung advised that "China needs to crack down on speculation and stabilize its economy in the short term." He added, "A balance is needed to transition the economy by allowing the RMB to depreciate so it maintains a degree of exports; you just can't eliminate them all at once [and transition] from Nike shoes to high tech over night."
Leung's view is shared by Paul Tung, director of the U.S.-China Forum, who believes that inflation is really not a bad thing for China at the moment. Although the Chinese currency depreciation has caused ripple effects across stock markets internationally, the majority of Chinese people and businesses have hardly felt them domestically: "A lot of people worry about it. I look at it differently [because] at least [it's] still growing. It's just slower than before. If you look at China's economy 10 years ago the GDP was half of its current size."
The startup scene in China has kept its momentum since 2015, when Chinese Premier Li Keqiang issued the slogan "mass entrepreneurship and innovation" to boost governmental support for young people's ventures in entrepreneurship. The explosive growth still seems unimpeded by the currency depreciation and economic slowdown. When several successful startups, such as Meituan and Dianping (China's one-stop Yelp-like commenting and deal sites) merged recently, many young people — including Lou — saw the high potential the Chinese economy holds for talented ambitious entrepreneurs.
But the reality still remains that as wealthy Chinese people lose confidence over a weakening currency, investors' caution will only rise as their wallets tighten. Benjamin Cavender, senior analyst at China Market Research Group, a business consulting firm based in Shanghai for foreign companies interested in entering China, pointed out the downside of the situation. "China's offshore reserves are huge," he said. "Where there is a problem is mid-size Chinese companies who have taken debt out in dollars and now have to pay it back. If your own currency devalues then you have to pay back even more."
As the traditionally driven economic model continues to weaken, startup companies are increasingly crucial to the development and sustainability of China's economic growth. The government, nonetheless, needs to readjust its strategies in the next phase of economic development. Otherwise, Cavender forecast, startups may have problems getting funding. "Most companies need some debt in order to grow," he explained. "It will be harder to take out loans going forwards. State banks don't lend well to private organizations; they lend more to state companies so there could be a cash crunch going forwards."
Vicky Ge Huang is a student at Columbia University Graduate School of Journalism.