In Afghanistan, Contractors Paid in Full for Incomplete Projects
SIGAR reviewed 6 years of inspectors reports and found recurring problems in Defense Department reconstruction projects.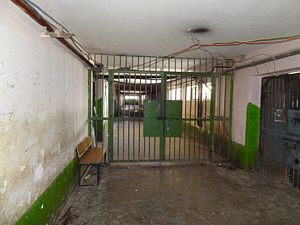 After six years of inspection reports, the Special Inspector General for Afghanistan Reconstruction (SIGAR) has a decidedly mixed review of U.S. Defense Department reconstruction projects in Afghanistan. In testimony delivered Wednesday to the House Committee on Oversight and Government Reform, SIGAR John Sopko commented that although his organization's reports cover only a fraction of the Pentagon's reconstruction projects, the 36 reports (from July 2009 to September 2015) covering 44 projects do "provide valuable insight into the varying quality of projects that exist and the reasons for these project outcomes." Many of the deficiencies found in individual projects were rooted in recurring problems, a review of the six years' worth of inspection reports found.
SIGAR reviewed 36 of its reports covering 44 separate reconstruction projects, which totaled over $1 billion in contract value. The projects ranged from buildings to bridges, including 29 bases (either Army or Police), five schools, three medical facilities, two storage facilities, one road, one bridge, and one electrical plant. Of those, only 16 met contract requirements and technical specifications. The other 28 projects did not meet requirements set out in their construction contracts. Deficiencies, SIGAR says, fell into three broad categories: soil issues, systems issues, and structural issues. Of the 28 deficient projects, 16 "had deficiencies so severe that they threatened the structural integrity of the buildings and the safety of their occupants." Some projects were never completed and others, though complete, were either not being used at all or only partially in use.
The root cause of many of the deficiencies, according to SIGAR's report, was contractor performance and subsequently oversight problems. Many contractors who performed shoddy work were still paid the full contract amount. This came up during the hearing's question and answer session, but Howard Stickley, programs director for the U.S. Army Corps of Engineers, said that with regard to small local Afghan contractors, "if we hold much money from them, they will financially fail."
One project that illustrates some of the issues is a hospital constructed in Salang in 2012, subject to a mid-construction inspection  by a U.S. Forces-Afghanistan (USFOR-A) task force, which found deficiencies. The hospital, also the subject of a 2014 SIGAR inspection report, was found to be lacking in most areas even after construction had been completed. These deficiencies impacted its ability to provide services to the community as intended. Hospital staff were only able to use about 35 percent of the building because its water, sewer, electrical and heating systems were incomplete or needed repair. From SIGAR's report:
For example, because there was no clean water, hospital staff were washing newborns with untreated river water. In another example, since the required solar panel system had not been provided, hospital staff were paying the equivalent of about $18 a month of their own money to a neighbor to provide enough electricity to operate one light bulb in each of three hospital rooms.
"Despite these and other serious construction deficiencies found during our inspection," SIGAR says, "the contractor was paid the full amount of the contract—more than $500,000."
The drawdown of U.S. forces and deterioration of security in some areas has had a detrimental effect on the ability of SIGAR and others to conduct oversight. Inspections teams were not always able to reach projects sites or were limited in how much time they had to conduct inspections. Even in Kabul–which has seen its share of attacks in the past year–SIGAR's oversight abilities were curtailed by security. "For example, during our inspection of the MOD headquarters building, despite having military logistics support, we had to reschedule some of our site visits multiple times due to security conditions."
SIGAR's tense relations with other agencies, particularly in the Defense Department, remain evident. Although Sopko gave credit where due, noting that the Defense Department had implemented a majority of SIGAR's recommendations across the 36 reports, both USFOR-A and the U.S. Army Corps of Engineers (USACE) pushed back on the report in general.
Both noted that the 44 projects inspected were not representative of all of the Defense Department's reconstruction activities–something SIGAR agrees with, writing that "at no point in this report do we state that the contracting and construction problems we encountered during the course of our inspections was necessarily representative of all DOD reconstruction projects in Afghanistan over time."
USFOR-A in one line of its response letter comments that the report's value "lies in consolidating lessons that may benefit organizations charged with construction efforts in similar environments." And then a few lines later, notes that the report "does not represent new research, but re-publishes earlier reports going back as far as six (6) years without an associated update."
USACE had a similar response, writing that the report "has no new recommendations."
In SIGAR's eyes, they're missing the point. The report, in reviewing a range of previous reports, is an attempt to point out systemic problems and trends. SIGAR says, "[W]e believe that the primary value of this report is that it highlights issues on which DOD should focus its quality assurance efforts in current and future construction projects."
Although the Defense Department implemented a majority of SIGAR's previous recommendations, "despite these efforts, many of the projects we inspected had significant deficiencies caused, in part, by common and recurring problems."
SIGAR may be beating a dead horse in pointing out the same recurring issues–waste, fraud, and abuse. But then again, that's his mandate.