To Tackle Corruption in Afghanistan, Fix Procurement
Few things are as unsexy as procurement, except perhaps the phrase "procurement reform."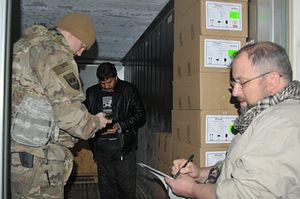 In Afghanistan — arguably into its third decade of near-constant warfare — the problems of procuring the fuel, medicine, concrete and so on that are needed desperately to rebuild and sustain the devastated country are part and parcel of the state's weakness.
The 3th quarterly report by the Special Inspector General for Afghanistan Reconstruction (SIGAR), released today, highlights the centrality of procurement, and procurement reform, to tackling corruption in Afghanistan.
Transparency International, the report quotes, has said that "few government activities create greater temptations or offer more opportunities for corruption than public sector procurement."
According to the director of Afghanistan's National Procurement Authority, nearly 50 percent of the country's national budget is dedicated to procurement. In countries around the world, the process of procurement is an epicenter of corruption. The business of contracts and supplies features numerous opportunities to skim off the top, collude with other bidders to jack up prices, and otherwise divert funds from roads that need building to pockets craving to be lined.
Illustrating this, SIGAR lays out the case of a nearly $1 billion fuel contract. In 2013, fuel procurement was handed off to the Afghan Ministry of Defense, with the United States footing the bill but not running the contracting process. MOD awarded a $999.5 million contract to four companies. SIGAR, after hearing rumors and fielding complaints, investigated and found classic red flags hinting at collusion among the bidders.
Of six companies that intended to submit bids, only four did — the other two were physically delayed in delivering their bids by "an unwarranted traffic stop in one case and a collision with a truck in another." The remaining four all submitted identical bids, down to the cents — exactly 86.25 cents per liter for diesel and 83.84 cents per liter for gasoline — after their representatives met in Dubai 10 days before the submission date. The conspirators had first tried to bribe the other two companies, one of which was intending to offer a bid nearly $200 million lower than contract value set by the MOD. The billion-dollar contract was canceled in early 2015 after SIGAR brought its findings to Afghan President Ashraf Ghani. The Afghan investigation, however, seems to have stalled — with its report still not formally released.
One complicating aspect — especially for SIGAR as its main concern is wither the U.S. taxpayer dollar — is the push to provide more aid via on budget assistance. The United States and other donor countries have committed to providing at least 50 percent of development aid "on budget." This makes sense with regard to emphasizing Afghan ownership, control and institutional development in contrast ti off-budget assistance which is controlled, managed and directed by outsiders.
But there's a problem: "As a matter of oversight, however," the SIGAR report notes, "whether the on-budget aid is delivered directly or via trust funds, U.S. ability to monitor, influence, and account for the distribution of its aid declines as more funds are executed by the Afghan government."
In a way, it's a damned-if-you-do, damned-if-you-don't situation. Afghanistan desperately needs funds for reconstruction, but the more money that pours in the more can leak out. Meanwhile, oversight processes can slow progress and execution of needed projects to absurd levels. No country has eradicated corruption but Afghanistan continues to lack the institutional maturity to handle the problem, and development of such institutions is curtailed by war and politics.
This isn't to say there are no promising efforts. Indeed, SIGAR highlights initiatives on the part of the Afghan government to increase transparency and accountability in the procurement process, from reforming laws to establishing a National Procurement Authority (NPA). Transparency International called the NPA "one bright spot" in Afghanistan's procurement operations. It's decidedly an uphill battle, as the Afghan government is rife with opportunists. SIGAR quotes Murtaza Noori, former NPA director of procurement policy, as saying that from the beginning "the reform process faced protests from government officials and members of parliament. Criminal patronage networks extended into the government itself, and were trying to manipulate and sabotage procurement reforms."
In the middle of a war, dickering over dollars seems trite. But corruption is a major source of kindling for the Afghan government's opponents and quite literally leeches fuel and supplies needed by those fighting the battles.